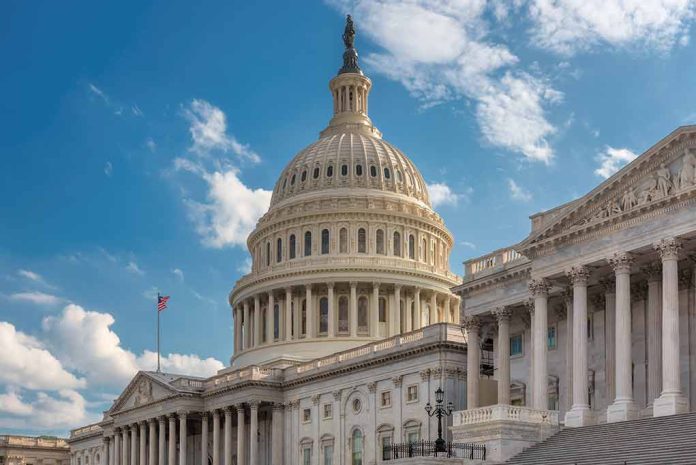 (LibertySons.org) – Senator Sherrod Brown (D-OH) is preparing for a reelection battle, despite Ohio Democratic Party rhetoric claiming that his conservative Republican challengers will consume their resources fighting amongst themselves to establish a winner in the primary.
The GOP intends to capitalize on the changing demographics in the state to flip the senate seat as it previously did when Sen. J.D. Vance (R-OH) defeated Sen. Tim Ryan (D-OH). Fielding three solidly conservative candidates in the primary, the Ohio Republican Party is readying itself for the critical battle to oust Brown.
And Then There Were Three
As of Monday, July 17, three strong conservative candidates had declared their candidacy for the Ohio GOP primary to challenge incumbent Brown for the senate seat. Matt Dolan was the first to announce on January 17, 2023, hoping to gain more name recognition by declaring early.
Businessman Bernie Moreno launched his campaign on April 18, 2023. He previously ran for the Senate seat now held by Vance but dropped out of the race after meeting with former President Donald Trump, who endorsed Vance. This time, Vance and Trump are endorsing Moreno.
On Monday, July 17, Ohio Secretary of State Frank LaRose officially threw his hat into the ring. Of the three candidates, he's the only one to have won a statewide election and has the most name recognition.
Two recent polls show LaRose has a slight edge over Dolan or Moreno. A July 18 USA Today/Suffolk University poll revealed that although 57% of GOP voters are currently undecided, theoretical matchups between Brown and each primary candidate yield the following results among all voters surveyed: Brown and LaRose tied in a dead heat at 45% each; Brown led Dolan 46% to 43%; and Brown has a seven-point lead over Moreno with 48% to 41%.
An East Carolina University poll from June 24 indicated similar results between theoretical matchups. Brown displayed a slight edge over all three GOP candidates, leading LaRose by two points, Dolan by three points, and Moreno by four, respectively.
Survival of the Fittest or Internal Political Damage?
In a prepared statement reported by Cleveland, Reeves Oyster, a spokesperson for the Ohio Democratic Party, observed in April that the GOP primary for the Ohio Senate seat was already sizing up to become a "slugfest." He predicted a year of nasty, chaotic, messy mud-slinging that could only leave the primary winner "bruised, battered, and out-of-touch with Ohioans' values."
One Republican analyst told The Hill, "It's going to be a dogfight to defeat Sherrod Brown," adding, "Whoever the nominee is, [will] have to run an A-plus campaign."
Mark Weaver, another GOP strategist, shared that "The primary will be more interesting than the general." He also opined that "the primary will be far more important than the general as far as national impact." He believes Ohio has become "reliably red," rendering Brown "uniquely weak." From the analyst's point of view, "this is an easy Republican pickup with the right candidate."
~Here's to Our Liberty!
Copyright 2023, LibertySons.org