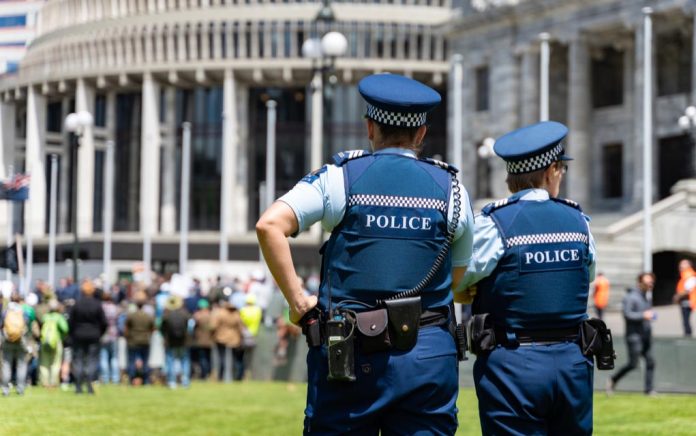 (LibertySons.org) – The Canadian Freedom Convoy has gathered a large following around the world. Protestors who embrace the group's ideas recently took up residence outside the national parliament in New Zealand to protest their own country's restrictions.
Hordes of vehicles blocked streets around New Zealand's Parliament on Tuesday, in a protest mirroring others building around the world demanding an end to coronavirus restrictions and vaccine mandates. https://t.co/haqWykV3IF

— Breitbart News (@BreitbartNews) February 8, 2022
After an incident the day before, New Zealand police announced on February 18 that they would not break up the COVID-19 mandate protests outside parliament. The aggressive approach of the previous day led to a massive increase in the number of people at the rally site, and Police Commissioner Andrew Coster said they will now focus on de-escalation instead of removal.
New Zealand police declared Friday they will not forcibly remove anti-mandate protesters from the national Parliame#conservativenewsdaily #conservative #conservativenews #trump #republicanhttps://t.co/LJa0xlGyBG

— Conservative News Daily (@ConservNewsDly) February 18, 2022
On February 17, police in the capital city of Wellington arrested 120 people for trespassing and obstruction despite previously saying they were not trespassing. Videos and images from the removal operation surfaced showing officers dragging a woman by her hair and tearing down tents. The agency faced backlash over its handling of the situation.
New Zealand police officials have been confusing in their approach to the protestors, often contradicting themselves and trying out-of-the-box removal methods, such as playing annoying songs on repeat and turning sprinklers on in the area. All attempts to clear the area failed to deter the group, which says it will stay until mandates and restrictions lift.
~Here's to Our Liberty!
Copyright 2022, LibertySons.org