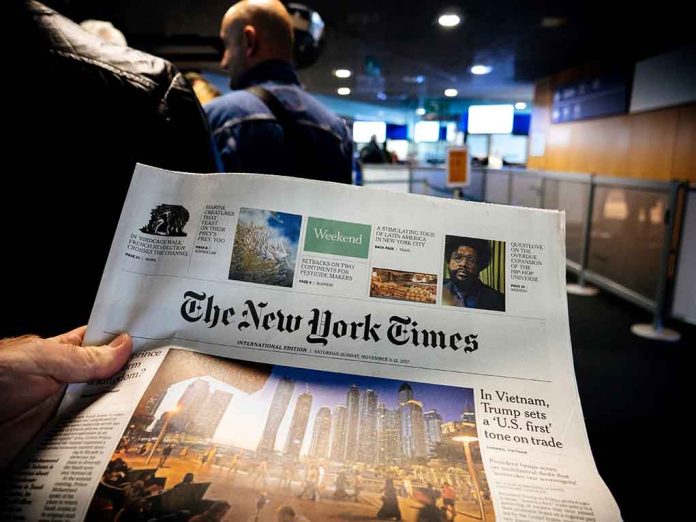 (LibertySons.org) – After months of speculation, President Joe Biden finally announced his bid for a second term on April 25. Still, questions have mounted regarding whether the nation's oldest-ever president is wise to run for re-election. Not even the liberal media fully has his back at this point. The New York Times recently published an op-ed piece submitted by the newspaper's Editorial Board that blindsided the current commander-in-chief with concerns over his advancing age.
The NY Times held no punches in laying out the facts, with the most notable being that Biden's already 80 years old. Ageism no longer applies when it addresses concerns over the possibility that someone as mature as the president might suffer a sudden health decline — at least not when it could affect their competency in leading the free world.
In Opinion

"If Mr. Biden runs again, as he recently said he intends to, questions will persist about his age until he does more to assure voters that he is up to the job," the New York Times editorial board writes. https://t.co/quqZBKYhYF

— The New York Times (@nytimes) April 22, 2023
The CDC states that a white US resident's average life expectancy in 2021 was 76.4. That number is just an average, and obviously, no two people can expect to have the same levels of health and longevity. Additionally, Biden's most recent White House physician examination report states he's perfectly fit for duty. However, the Times is quick to note that many voters have witnessed sudden, rapid declines in loved ones in their 80s, so a clean bill of health today is no guarantee Biden will be fit to lead the country tomorrow.
Not everyone is against Biden running for another term. CBS News reports that Sen. John Hickenlooper (D-CO) lauded several of the president's achievements, indicating that the current leader still had much work to do. Fellow Colorado Democrat Sen. Michael Bennet tweeted a similar sentiment. Other Biden supporters, according to NBC News, include Rep. Pramila Jayapal (D-WA), Rep. Jamaal Bowman (D-NY), and Rep. Lauren Underwood (D-IL).
Age could also be a factor for other candidates, including former President Donald Trump, who is currently 76 years old.
~Here's to Our Liberty!
Copyright 2023, LibertySons.org