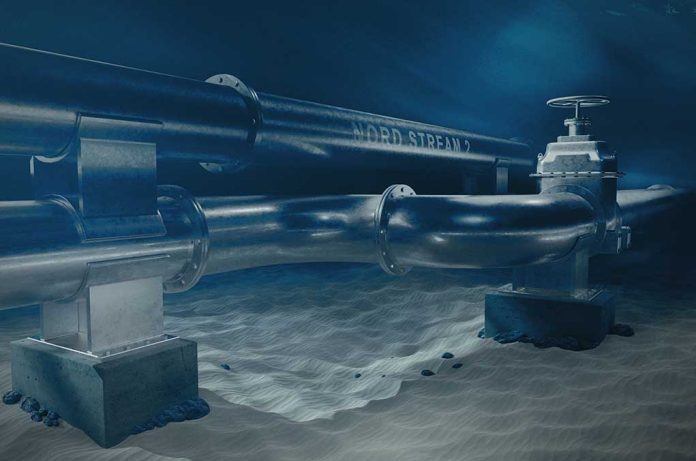 Nord Stream Investigators Conclude Detonations Damaged the Pipeline
(LibertySons.org) – The Nord Stream gas pipelines suffered damage in four areas on September 27. The unprecedented destruction immediately came under suspicion with talks about sabotage, and NATO issued a statement on September 29 indicating a belief the attack had been intentional. Because the event occurred within Swedish territory, its officials looked into the matter, and investigators agreed with the treaty organization that this was not a natural failure.
#Swedish investigative team finds 'detonations' damaged #NordStream pipeline!? https://t.co/mrd3T7lzZ8

— 🇲🇾 Kak Midah aka KM (@kakmidah) October 7, 2022
Sweden's Security Service stated on October 6 that evidence showed deliberate explosions occurred along the leaking spots on the Nord Stream 1 and 2 pipelines. Swedish prosecutor Mats Ljungqvist said crews collected materials from the area. They plan to analyze the evidence as part of an ongoing investigation in hopes of discovering the culprit.
Russia, which supplied Europe with gas through the pipeline, accused the United States of being behind the destruction. Russian spokesman Dmitry Peskov explained a fair investigation cannot occur because authorities will not allow Moscow's involvement.
During a United Nations Security Council Meeting about the incident, Ambassador Richard Mills unequivocally denied US involvement. He pushed for a complete investigation and urged Russia to allow authorities to get to the bottom of things without continuing the harmful rhetoric against Washington.
Who do you think was behind the sabotage?
~Here's to Our Liberty!
Copyright 2022, LibertySons.org