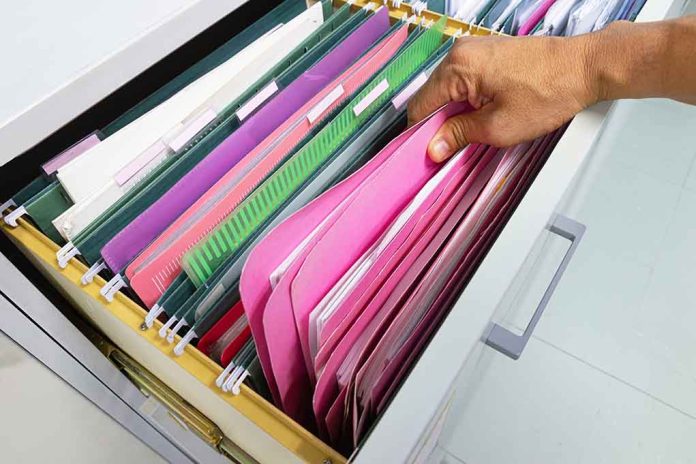 (LibertySons.org) – Identity theft can devastate lives, but most people take steps to prevent their personal and private information from becoming available to others. Governor Kristi Noem (R-SD), her husband, children, and son-in-law no longer have that option. The January 6 committee reportedly released documents containing their Social Security numbers. Noem's legal team is now demanding those responsible fix the mess they made.
My lawyers have asked the @WhiteHouse, the @USNatArchives, and @BennieGThompson which of them is responsible for leaking the Social Security Numbers of me, my husband, my 3 kids, and my son-in-law.

What specific measures and remedies will be taken to protect our identities? pic.twitter.com/HWBu5ukWPP

— Kristi Noem (@KristiNoem) January 6, 2023
The select group officially ended on January 3, but prior to the disbanding, it released a large number of documents. Among those were White House visitor records, which contained a spreadsheet listing the Social Security numbers of each person. Noem and her family happened to take an official visit to the Trump White House in December 2020, which landed them on that spreadsheet.
In a letter she tweeted to the public, her attorneys noted the National Archives handed these records over to the January 6 committee, which they claim had a responsibility to redact all personal information. The spreadsheet was reportedly published and available for days before the removal. The firm cited this violated The Privacy Act of 1974.
Noem's attorneys explained the heightened risk the governor and her family now have for identity theft. They asked for details on how the recipients would address the issue and what remedies the committee will employ to fix the damage done.
The almost 2,000 Social Security numbers leaked included those of former Housing and Urban Development Secretary Ben Carson, former Health and Human Services Secretary Alex Azar, and Governors Henry McMaster (R-SC) and Greg Abbott (R-TX).
The Government Publishing Office, which put up the file and took it down soon afterward, told The Washington Post that it doesn't check over documents as part of its job responsibilities. The January 6 committee originally requested redacted records from the National Archives in February 2022.
~Here's to Our Liberty!
Copyright 2023, LibertySons.org