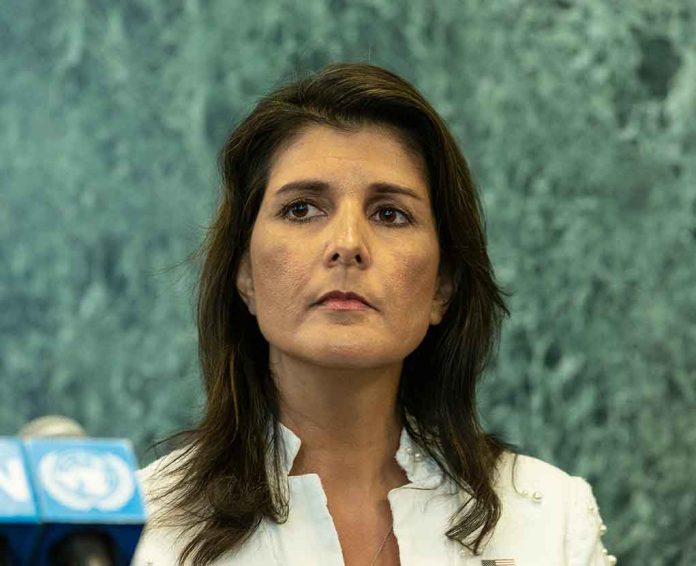 (LibertySons.org) – Former South Carolina Governor Nikki Haley (R) has been traveling to key primary states attempting to drum up support for her campaign for the Republican presidential nomination next year. She discussed her work with former President Donald Trump as his UN Ambassador during a campaign stop in Rye, New Hampshire, on May 24.
In response to a question about how she would handle what the resident characterized as bullying from Trump as the campaign intensifies, Haley talked about the excellent working relationship she maintained with the former POTUS. "I was proud to serve in his administration," Haley said, according to Epoch Times. She added that she escaped being the target of Trump's tweets because she always leveled with him.
Haley described how she supported Trump when he made good decisions, publicly fighting for him. When she disagreed with the former president, she quietly spoke with him personally, suggesting a different course of action. She said Trump would usually discuss those alternatives with her, asking, "how do you see that playing out?"
One fundamental disagreement between the two politicians remains the January 6, 2021, attack on Congress. Haley said Trump still sees it as "a beautiful day," while she views it as a terrible day in American history.
Haley also revealed her decision to notify Trump before announcing her run for the nomination. The former South Carolina Governor explained she felt it was morally and ethically correct because the former president had previously given her a position in his administration. She also told Trump the GOP needs "a new generational leader" without all the "baggage" the former POTUS was carrying.
While polling continues to vary daily, most agree Trump is leading the polls with a significant advantage, followed by Florida Gov. Ron DeSantis (R) in second place. Haley, former Vice President Mike Pence, Vivek Ramaswamy, and Sen. Tim Scott (R-SC) all vie for third place depending on the poll and the day, capturing from 2% to as much as 6% in some polls.
~Here's to Our Liberty!
Copyright 2023, LibertySons.org