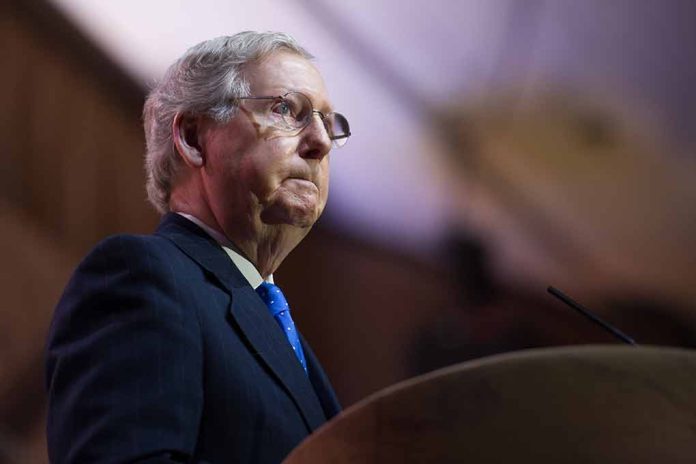 (LibertySons.org) – Senate Minority Leader Mitch McConnell (R-KY) froze at the podium during a press conference on August 30. It was the second time in as many months that the senator became incapable of speaking or answering questions during a public briefing. In response, Republican hopeful and former UN ambassador Nikki Haley used the incident to slam McConnell.
In an interview with Fox News, Haley called McConnell's recent incidents "sad," saying "he deserves credit" for "some great things" he accomplished but admonished him and other senior lawmakers for not knowing when to leave public service. Putting a fine edge on her comments, she said, "[R]ight now, the Senate is the most privileged nursing home in the country."
In the past, Haley, 51, has argued for term limits and acuity tests, and the former South Carolina governor renewed her calls for both. Haley is proposing testing candidates 75 and older but said, "I wouldn't care if they did them over the age of 50." She argued that the leaders make national security and policy decisions affecting the nation. "We need to know they're at the top of their game," she said.
Sen. Dianne Feinstein, 90, and President Joe Biden, 80, didn't escape Haley's criticisms. She compared witnessing their declines to seeing the problems McConnell is experiencing. "No one should feel good about seeing that," she added.
Despite Haley's criticisms, Dr. Brian Monahan, Congress' attending physician, cleared McConnell to resume his duties after consulting with the senator and conferring with his neurology team. He noted that individuals recovering from concussions often experience lightheadedness, a reference to McConnell's March fall. He also pointed out dehydration can contribute to the problem.
A recent AP-NORC poll found that 66% of those surveyed believed the US should set a maximum age limit for candidates to run to become president. The same survey found that 77% of respondents believe Biden is too old to run for reelection, including 69% of Democrats.
~Here's to Our Liberty!
Copyright 2023, LibertySons.org