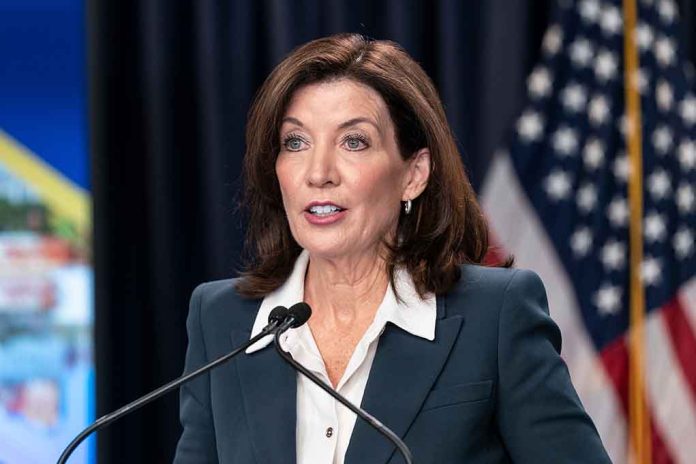 Gun Control Executive Order – It's Official!
(LibertySons.org) – On May 14, a shooter arrived at a grocery store in Buffalo, New York, where he killed 10 people and wounded 3 others. In response, anti-Second Amendment rhetoric began, prompting Democratic New York Governor Kathy Hochul to enact executive orders increasing gun control and targeting those believed to be radicals. Hochul explained these measures would help to combat domestic terrorism and curb violent extremism.
Hochul unveils gun executive orders in wake of racist-fueled Buffalo massacre https://t.co/pXMx8ZvOoT pic.twitter.com/SjJo8iWUM8

— New York Post (@nypost) May 18, 2022
She signed two orders on May 18. Order No. 18 focuses on domestic terrorism. It requires all counties to develop plans to identify and combat domestic terrorism, while also creating a unit in the Office of Counterterrorism to focus on domestic threats. Finally, it requires the state police to monitor and track social media to identify potential issues.
Executive Order No. 19 expanded the state's red flag gun law. The governor mandated the state police file an Extreme Risk Protection Order (ERPO) in situations where they have probable cause to show an individual could be a threat to themselves or others. Having an ERPO can allow officers to seize any firearms from a person and stop them from purchasing more guns.
Hochul also implored the state Attorney General to launch an investigation into the role of social media in the mass shooting. She warned that easy access to military-style weapons and the "mainstreaming of hate speech" led to the horrific incident. As far as the governor is concerned, only through more gun control and increased surveillance of "extremists" can she protect New Yorkers.
~Here's to Our Liberty!
Copyright 2022, LibertySons.org