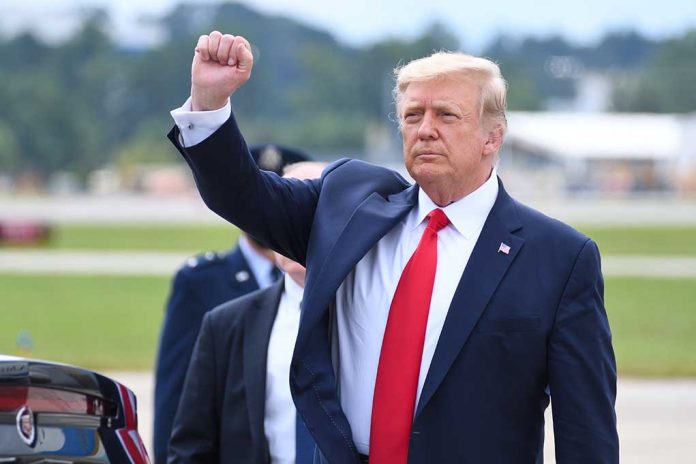 (LibertySons.org) – The country remains on pins and needs as a New York grand jury appears to be wrapping up its long-running investigations into actions surrounding former President Donald Trump's first presidential campaign and alleged hush money payments to adult film actress Stormy Daniels. However, recent revelations show that Manhattan's Democratic District Attorney, Alvin Bragg, may have hidden scores of documents during his so-called pursuit of justice in the case.
On March 23, the National File published a stunning exposé revealing the contents of a letter reportedly sent by Trump's former attorney Michael Cohen to the Federal Election Commission (FEC) in 2018. Cohen claimed his client didn't provide the funds for the payment to Stormy Daniels. Continuing, Cohen claimed that he used his own money for the transaction.
Alvin Bragg knows that New York Attorney General Letitia James will never hold him accountable for lying to the Trump grand jury. Mr. Bragg and the rest of the Democrats will never give up on arresting Donald Trump. https://t.co/oLUMi7PRmJ

— Charles R Downs (@TheCharlesDowns) March 23, 2023
Cohen's lawyer goes on to explain that the hush money payment was done using a check denoted as a "private transaction" in the amount of $130,000 to "Stephanie Clifford," Daniels' legal name. The attorney also claimed that the transaction took place prior to the "2016 presidential election," adding that "neither the Trump Organization nor the Trump campaign" was involved in the transaction in any capacity. Additionally, Cohen's lawyer noted that neither entity "directly or indirectly" reimbursed his client for the transaction.
The former president took to Truth Social, his social media platform, to express his outrage about the revelation. Trump said that the Manhattan DA needed to end his office's "witch hunt," calling the letter's release "totally exculpatory."
The newly released letter challenges the information Cohen and Manhattan DA Bragg reportedly provided to the New York Grand Jury. Given the information in the letter, both men may have lied to the grand jury, a felony if the claims prove true. However, it would be up to New York Attorney General Letitia James, a Democrat, to make the decision whether to take legal action against either man.
~Here's to Our Liberty!
Copyright 2023, LibertySons.org