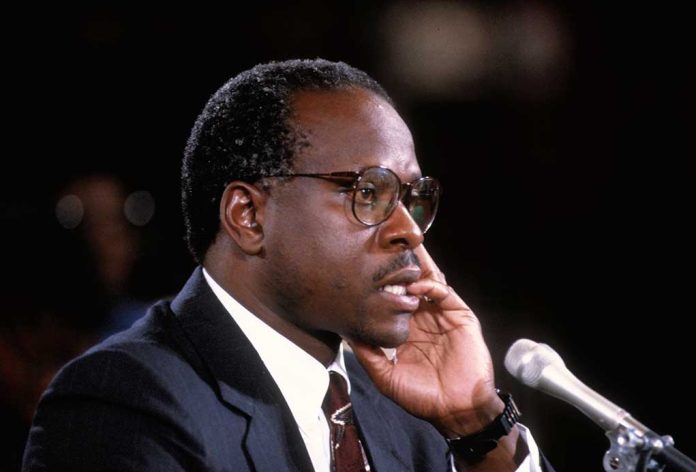 (LibertySons.org) – Many people started requesting Supreme Court Justice Clarence Thomas' removal after details emerged that his wife, Ginni Thomas, contacted the White House to urge overturning the 2020 general election – both before and after the Capitol event on January 6, 2021. A MoveOn petition is now calling for his impeachment due to a conflict of interests in matters involving the January 6 incident. The petition currently has well over 148,000 signatures.
The Petition
MoveOn stated Ginni's involvement in matters related to January 6 should have led the justice to recuse himself from the vote concerning the release of former President Trump's records from that day. They said his failure to do so was a conflict of interest and showed a pattern of disregard for impartiality. They also accused him of only acting in favor of "a right-wing agenda," mixing politics with his judiciary duties.
MoveOn says he was unable to act without bias and asked for his resignation. If he fails to do so, they want Congress to investigate the situation and impeach him.
The Controversy
The situation stems from text messages, revealed first by The Washington Post, showing Ginni Thomas communicated with former White House Chief of Staff Mark Meadows about the 2020 election results. She urged him to fight and not let Trump concede.
Known as a conservative activist, Ginni Thomas said she and her husband keep their work lives separate. She explained that neither of them discusses what they do with the other, including her involvement in seeking to overturn the election. There are no reports of Justice Thomas' reactions to the calls for his resignation or impeachment.
Others Speak Out
MoveOn and its supporters aren't the only ones asking the judge to step down from the bench. Senator Ron Wyden (D-OR) accused the judge of being corrupt. The senator said Thomas must not hear cases related to January 6th.
Senator Alex Padilla (D-CA), Representative Pramila Jayapal (D-WA), and Senator Elizabeth Warren (D-MA) want Thomas to explain in writing why he didn't recuse himself from January 6-related matters. Another 21 Democratic members of Congress joined them in this request. They cited concern over the violation of Supreme Court ethics rules.
There has been an impeachment of only one Supreme Court Justice in US history, occurring in 1804. Congress impeached former Justice Samuel Chase but later acquitted him, and he remained on the court until he died. If critics succeed in impeaching Justice Thomas, the move would be historic.
~Here's to Our Liberty!
Copyright 2022, LibertySons.org