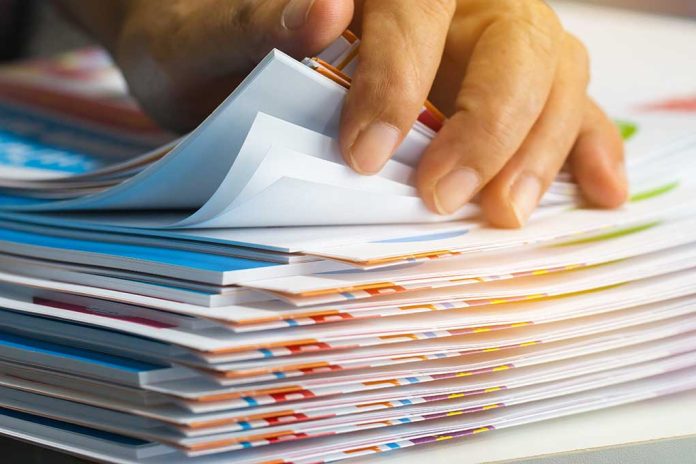 (LibertySons.org) – Near the beginning of the year, President Joe Biden nominated Gigi Sohn to fill an empty position on the Federal Communications Commission (FCC) left by Ajit Pai. However, a memo reveals she may have severe conflicts of interest regarding the companies she may oversee in that position.
Not a Good Fit
On January 30, The Daily Wire published an exclusive report detailing the contents of a memo it obtained that discussed Sohn's possible conflicts of interest. According to that document, the nominee's public records indicate that she currently serves as an advisor for the Benton Institute for Broadband & Society, whose goal is to give all Americans access to high-quality broadband services.
However, the think tank receives much of its funding from telecom titans that Sohn would oversee as part of her role with the FCC. Biden's nominee has criticized similar behavior, sarcastically claiming it was better for telecom giants and their "bought & paid 4 think tanks" to run the FCC.
Yes, it's better that @FCC is again run by telecom, cable & broadcast industries & their bought & paid 4 think-tanks. Now *that's* democracy! https://t.co/7rlzHTeqDD

— Gigi Sohn (@gigibsohn) November 29, 2017
Sohn's own Executive Branch Personnel Public Financial Disclosure Report indicates that she made almost half her annual salary from consulting for the Benton Institute. The Biden nominee reported making $137,002 in "consulting fees," according to her filing with the Office of Government Ethics in January 2022.
Sohn makes quite a bit of money from the Benton Institute, which also has a list of its donors on its website. Looking at the list, one will see that among Benton's "Platinum Sponsors" are industry giants like Verizon, T-Mobile, and Google Fiber. In the "Silver Sponsor" group are Twitter, AT&T, and Dish Network. These are all companies that Sohn has criticized in the past.
Failed Nominee
This is the second time Biden attempted to appoint Sohn to serve as an FCC commissioner. He originally nominated her in 2021, but the Senate never confirmed her appointment in the wake of highly publicized backlash regarding her hyper-partisan remarks and calls to censor networks and other communication companies whose views didn't align with hers — namely conservative outlets like Sinclair Media and Fox News.
During a Senate Commerce Committee hearing back in March 2022, Senator Ted Cruz (R-TX) stated that his biggest concern with Sohn's nomination was her willingness to exert federal power against "political enemies" and use that authority to censor them. The Lone Star Republican warned that appointing someone willing to silence those who disagree with them to the FCC was a dangerous game.
Additionally, Sohn has faced scrutiny for her position on the Electronic Frontier Foundation's board, which didn't agree with a couple of bipartisan bills that then-President Trump passed in hopes of preventing online sex trafficking.
Biden's initial nomination expired with the previous Congress, forcing him to renominate Sohn at the beginning of the new session earlier this month.
~Here's to Our Liberty!
Copyright 2023, LibertySons.org