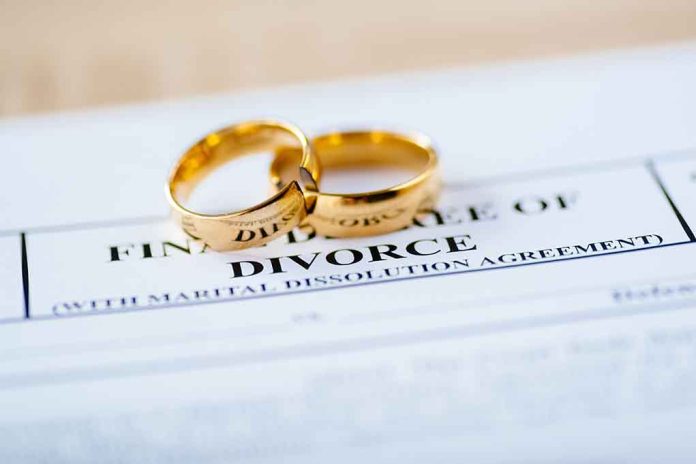 (LibertySons.org) – It seems that divorces, more often than not, get pretty messy. People say horrible things about each other in order to "win" their divorce. However, the process can get even messier when you're running for office. New details have emerged from one Democrat's divorce as they run for Senate. Could they have a devastating effect on their campaign?
The Daily Mail recently reported that Representative Katie Porter's (D-CA) ex-husband accused her of verbal and physical abuse. In 2013, Porter and her then-husband Matthew Hoffman decided it was best if they weren't together and filed for divorce. Documents pertaining to the case indicate the pair had past issues.
Hoffman claims that in one argument in 2006, he was making mashed potatoes when his wife came into the kitchen. Porter allegedly yelled at her husband, with their son Luke present in a high chair, asking him if he could read the instructions. At this point, Hoffman alleges Porter grabbed the bowl of hot potatoes and poured them onto his head, burning his scalp.
Hot Potatoes And Insults Fly In Report Detailing Allegations From Katie Porter's Messy Divorce https://t.co/MUCUkuB8eA pic.twitter.com/KKmo3nnwfw

— Daily Wire News (@DailyWireNews) April 12, 2023
In another incident in 2012, the Democrat came home from work and became mad that the house wasn't clean. According to Hoffman, Porter slammed a glass coffee pot into the countertop, causing it to explode, sending shards of glass in every direction and cutting him as she ranted about how dirty the house was and called him a slob and incompetent.
The Democrat's ex-husband alleged Porter had a tendency to snap and verbally abuse him and their children. The pair filed for divorce in 2013 but decided to stay in the same home in support of their children. However, the arrangement led both of them to file restraining orders.
The details of Porter's marriage and subsequent divorce come as she looks to gain more power in the Senate. However, she faces a tough primary, contending with Representative Adam Schiff (D-CA) and Barbara Lee (D-CA) as the trio looks to succeed Senator Diane Feinstein (D-CA), who will not be seeking another term in Congress.
~Here's to Our Liberty!
Copyright 2023, LibertySons.org