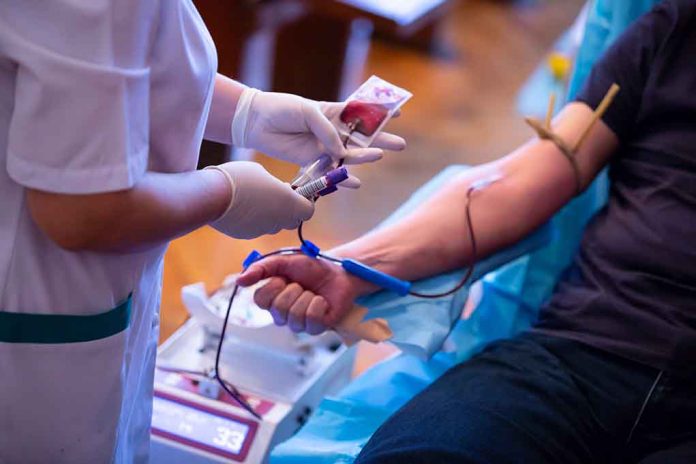 Healthcare Professionals Refuse Life-Saving Donation
(LibertySons.org) – Leslie Sinclair, 66, has been a regular blood donator for almost 50 years. He recently visited a Stirling, Scotland, clinic where the staff made him complete a new form that included a question asking if he was pregnant. Being a man, Sinclair didn't answer it as it didn't apply to him, but the clinic refused to allow him to donate because he wouldn't tell them if he was with child or not.
MADNESS: British man turned away from giving blood after refusing to answer if he was pregnant: report
Potential blood donors in Scotland are asked if they are pregnant as part of a mission to promote inclusiveness, officials said https://t.co/AtwBQB9S0l #FoxNews

— Tom Fitton (@TomFitton) June 21, 2022
The questionnaire is part of a new National Health Service England campaign to help bring in more donors. The idea behind it is inclusivity. But it backfired, as the institution lost a reliable donor due to the pregnancy question.
Sinclair left the clinic upset and labeled the experience as "nonsensical." He had no issue completing a form because he said that's routine for giving blood. His problem was answering the silly question that didn't apply to him because he is a biological male. The man was mad because he knew there was a need for blood, and believed he could have easily helped ease the burden. Sadly, they barred him for no good reason.
Scottish National Blood Transfusion Service Director Marc Turner explained the question is important because pregnancy is not always visible, and staff cannot always determine the biological sex of a potential donor by visual clues alone. Asking about pregnancy ensures the clinic can uphold the rule that people cannot donate until six weeks after giving birth. To make sure the process is inclusive, the clinic now asks the question of every person.
~Here's to Our Liberty!
Copyright 2022, LibertySons.org