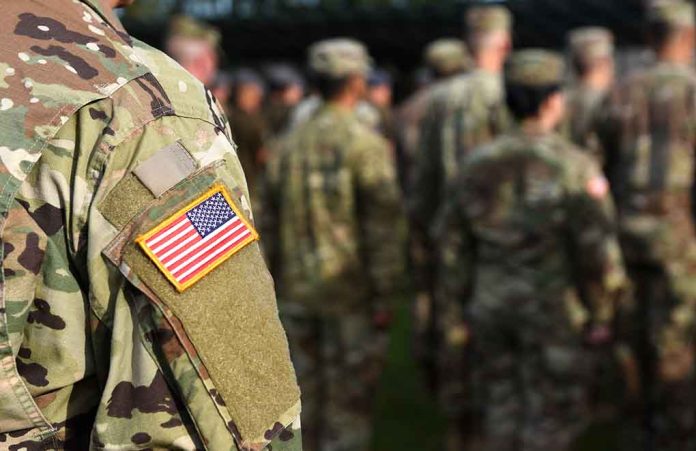 (LibertySons.org) – Corporal Jacob Fracker of the 116th Infantry Brigade Combat Team, 29th Infantry Division, who was also a Virginia police officer, pleaded guilty to conspiracy charges related to the January 6, 2021 incident at the US Capitol. Due to his plea, the National Guard discharged him, and he lost his job with the Rocky Mount Police Department. There are no details on his discharge status.
Jacob Fracker, the first active duty military member to be charged for participating in the Jan. 6, 2021 storming of the U.S. Capitol, was kicked out of the Virginia National Guard this week. https://t.co/bpqNxKN3gz

— Enrique Taylor 💪🏾🇺🇸 (@EnriqueTaylorr) April 14, 2022
Authorities arrested Fracker on January 13, 2021, about a week after the Capitol event. He remained in the service but was not allowed to resume his duties pending his trial. The police department dismissed him almost immediately. He was off duty from both positions at the time, but he brought his police ID and firearm with him to DC. He didn't carry either into the Capitol building.
Fracker attended a rally near the Washington Monument, then he put on a gas mask and joined the crowd entering the Capitol. Once inside, he took a selfie.
In court, the man admitted his actions were an "attempt to impede, stop, or delay the proceedings going on before Congress." He explained he wanted to prevent the validation of the election and keep former President Donald Trump in the White House.
There is no sentencing date yet, but he faces fines up to $250,000 and up to 5 years in prison. Fracker went to the Capitol that day with another man, Thomas Robertson, who decided to go to trial. Robertson was also a police officer and lost his job. His trial is currently ongoing.
Could Fracker possibly have avoided the military discharge if he chose to go to trial instead of taking a plea agreement? Would a jury have seen the situation differently and potentially acquitted him?
~Here's to Our Liberty!
Copyright 2022, LibertySons.org