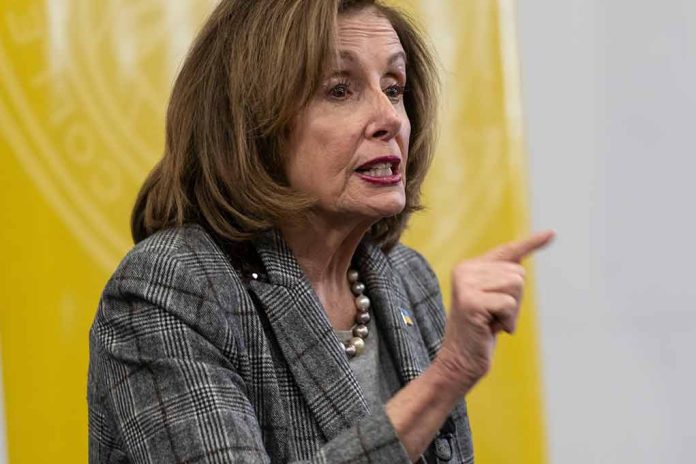 (LibertySons.org) – California Rep. Nancy Pelosi (D) has served her San Francisco district for over 35 years. She made the history books as the first female Speaker of the House in 2007, reprising the position in 2019. At 83 years old, the congresswoman has raised questions as to whether she'll be pursuing yet another House term. And if she decides she's ready for her next move, what will it be?
Nancy Pelosi declared on Friday her intention to seek reelection in 2024. Initially sharing the news during a breakfast gathering with volunteers in San Francisco, Pelosi later made her announcement official on X, the platform formerly recognized as Twitter. Her campaign and political action committee raised a collective $3.5 million in the first half of 2023, for another two years in office. Many speculate she may be just running in an effort to boost her party, and may back out at the last minute or resign after the initial votes are tabulated. A decision to leave her seat right now would likely alter the course in the running for the San Francisco Board of Supervisors as well as California's Senate and Assembly seats, creating open elections that could create a power shift in Washington, DC.
Speculation has also grown that Pelosi might be grooming her daughter, Christine Pelosi, to take her place. Both have been quiet about the possibility, although the latter noted that she would be available for comment after the elections had ended in November. California State Sen. Scott Wiener (D-District 11) is also believed to be a contender if Pelosi decides not to run.
Rumors about the next chapter in Pelosi's life have also left more questions than possible answers. POLITICO columnist Jonathan Martin noted a negative response the representative's husband, Paul Pelosi, gave in reference to the possibility that the congresswoman might move on to become a US ambassador to Italy. Pelosi reportedly clenched her husband's hand during the remark, as though hinting for him to drop the matter.
There's also talk that the long-standing politician wants to write a book. Pelosi says she would title it "Our Flag Was Still There" because the National Anthem line excites her, and she feels the United States is currently pulling through similar turmoil.
~Here's to Our Liberty!
Copyright 2023, LibertySons.org