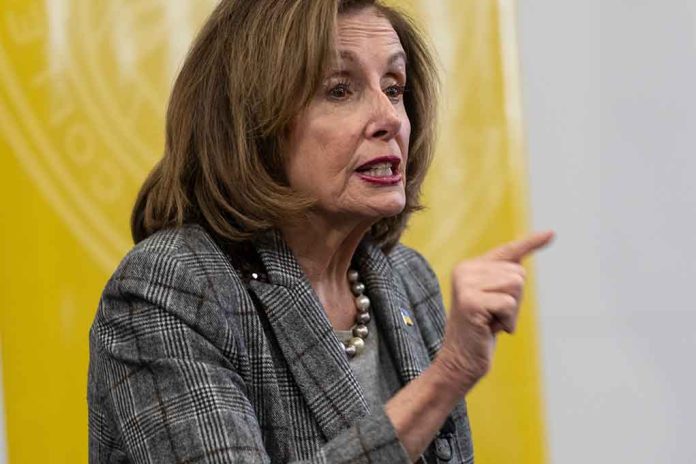 (LibertySons.org) – Then-House Minority Leader Nancy Pelosi (D-CA) called for an investigation in 2017 into President Donald Trump's 2016 presidential campaign upon receiving reports that Donald Trump Jr. met with a Russian lawyer regarding potential opposition information on Hillary Clinton. Now, six years later, upon the conclusion of the Durham investigation, Pelosi has fallen uncharacteristically silent, according to Fox News.
In her July 13, 2017, weekly press conference Pelosi stated that the press had provided "cold hard evidence" that the Trump campaign and seemingly the Trump family intended "to collude" with Russian agents "to influence American elections." In that same presser, she called on then-House Speaker Paul Ryan (R-WI) to facilitate a vote on forming an outside, independent commission to investigate.
Pelosi silent on Trump 'cold hard evidence' collusion claim after Durham report shows FBI, DOJ wrongdoing https://t.co/fhsnMw15aM

— Fox News (@FoxNews) May 22, 2023
The scope of the Special Counsel investigation by Robert Mueller already encompassed the incident. However, Mueller ultimately declined to file charges in the incident involving Donald Trump Jr. and Russian lawyer Natalia Veselnitskaya.
In 2019, Then-Attorney General William Barr launched a review into the origins of the FBI's investigation of Russia's interference in the 2016 presidential election. He appointed Special Counsel John Durham to examine the government's basis for beginning and pursuing their investigation, which they codenamed "Crossfire Hurricane."
Durham recently released his report. He concluded, in part, that FBI operatives responsible for deciding whether to pursue an investigation "displayed a serious lack of analytical rigor towards the information that they received." He added that he was particularly disturbed by FBI personnel's reliance on information "provided or funded [directly or indirectly] by Trump's political opponents." Ultimately, Durham said, "[T]he Department and the FBI failed to uphold their mission of strict fidelity to the law."
Fox News reporters reached out to Pelosi's office multiple times to obtain her comments on the Durham report and his comments regarding the FBI, but she didn't supply a statement or return their calls or communications.
~Here's to Our Liberty!
Copyright 2023, LibertySons.org