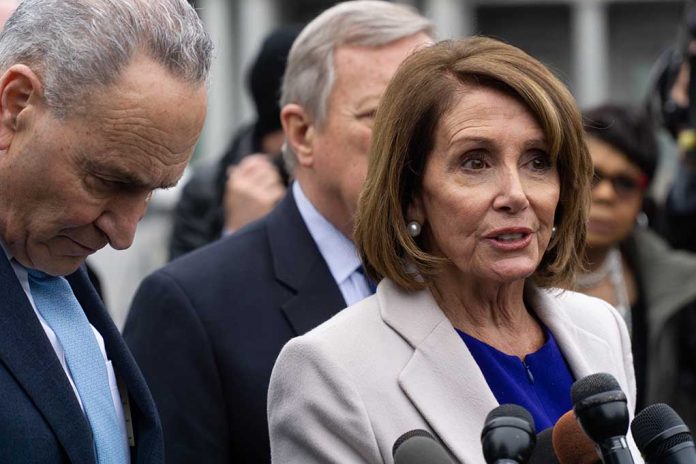 (LibertySons.org) – The Department of Justice (DOJ) and eight states filed an anti-trust suit against Google on Monday, January 23, causing parent company Alphabet, Inc. stocks to plummet. Yet, GOP critics charge that a mere month before the lawsuit announcement, Nancy Pelosi's husband, Paul, privately sold a huge chunk of Alphabet shares, calling insider trading into question.
Pelosi sold 10,000 shares of Alphabet stock three times in December, on Dec. 20, 21, and 28, totaling 30,000 shares, according to the financial periodic transaction report filed for December. While the form lists each transaction's value at between half a million to a million dollars, actual stock prices for the three days place the sum value of the transactions at around $2,646,200.
Pelosi slammed for selling Google stocks right before DOJ announced antitrust suit: 'Convenient timing' https://t.co/eLG4BivgGJ

— Fox News (@FoxNews) January 26, 2023
Several GOP House colleagues called the transactions into question in light of the DOJ lawsuit against Google. More than one suggested the timing of Pelosi's trade was suspiciously convenient. In response, one particular legislator, Rep. Josh Hawley (R-MO), introduced a bill he named the Preventing Elected Leaders from Owning Securities and Investments (PELOSI) Act to prevent Congress members or their spouses from privately holding or trading stocks.
Rep. Lauren Boebert (R-CO) was also very vocal about the transaction. She found the timing more suspicious than coincidental, in a recent tweet.
Lauren Boebert:

"A few weeks ago, Nancy Pelosi sold off millions in Google stock. Then, yesterday, the DOJ sues google. Coincidence? I don't think so!"pic.twitter.com/aiLaLDHida

— Citizen Free Press (@CitizenFreePres) January 25, 2023
The Google stock trade incident isn't the first Pelosi stock transaction to ring alarm bells. In late July 2022, Paul Pelosi divested 25,000 shares of Nvidia stock, worth an estimated $5 million, after purchasing 20,000 shares of the same stock via put calls in mid-June 2022. The moves would not have seemed unusual for Pelosi, a stock manager, except Congress approved the Chips and Science Act on August 9, 2022, two weeks to the day after Pelosi sold the Nvidia stock. That measure increased the value of Nvidia shares.
Speaker Nancy Pelosi (D-CA) faced bipartisan criticism as early as May 2022 because she seemingly refused to move forward on a bill submitted by Rep. Abigail Spanberger (D-VA) addressing stock trading. The measure would prohibit Congress members, their spouses, or their dependent children from holding or trading in stocks and other assets unless they place them into a blind trust. Rep. Chip Roy (R-TX) co-sponsored the bill.
~Here's to Our Liberty!
Copyright 2023, LibertySons.org