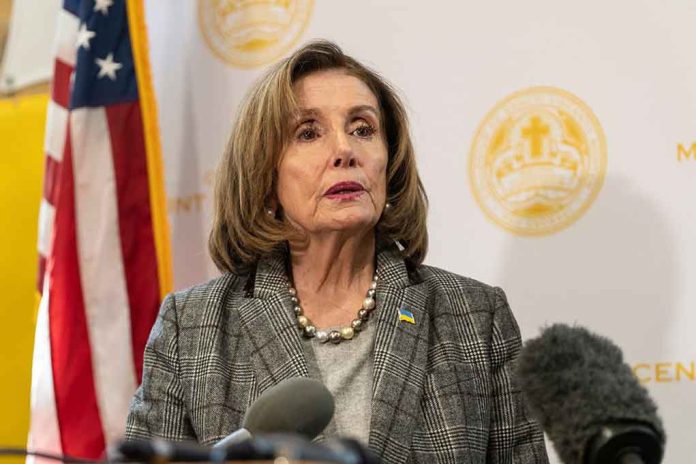 (LibertySons.org) – Rep. Nancy Pelosi (D-CA) stepped down from her House leadership position on January 3, ceding the office to Rep. Hakeem Jeffries (D-NY) after serving 20 years as the House Democratic Caucus leader. Pelosi, still serving her constituents as their representative, also declined committee assignments, leaving her time for public speaking engagements. On Monday, April 3, the former House Speaker described an "illegal" election plot against Hillary Clinton and the reason behind it.
Pelosi joined failed presidential candidate Clinton at Columbia University's School of International and Public Affairs (SIPA) to discuss national security and global politics. Clinton became a SIPA professor of practice in January.
According to Newsweek, the former House Speaker went on to describe her belief that Russian President Vladimir Putin employed "illegal" means to interfere in the US democracy during Clinton's 2016 presidential campaign because he feared her "clarity and position" as a force for democracy.
Nancy Pelosi says Putin's fear of Hillary Clinton made him "ensure in an illegal way" that she lost in 2016https://t.co/m76lNjlu59

— The Post Millennial (@TPostMillennial) April 4, 2023
Dan Coats, former Director of National Intelligence (DNI) appointed in 2017 by then-President Trump, confirmed in July 2018 that US intelligence agencies found proof of Russian interference. He stated, "We have been clear in our assessments of Russian meddling in the 2016 election and their ongoing… efforts to undermine our democracy," vowing to support national security with candid and unbiased intelligence reporting, according to a report by POLITICO.
Some experts theorize Clinton ran afoul of Putin when she criticized Russia's 2011 parliamentary election, which ultimately resulted in Putin's reinstatement to the presidency in 2012, as "neither free nor fair," according to Newsweek. In June 2017, the European Court of Human Rights (ECHR) concurred with her opinion, stating in part that the "fairness of the elections … was seriously compromised," according to a Business Insider report.
Massive protests broke out in Russia after the 2011 election, and Putin accused Clinton of fomenting dissent after she called for a "full investigation" because of "serious concerns" regarding the election's conduct.
~Here's to Our Liberty!
Copyright 2023, LibertySons.org