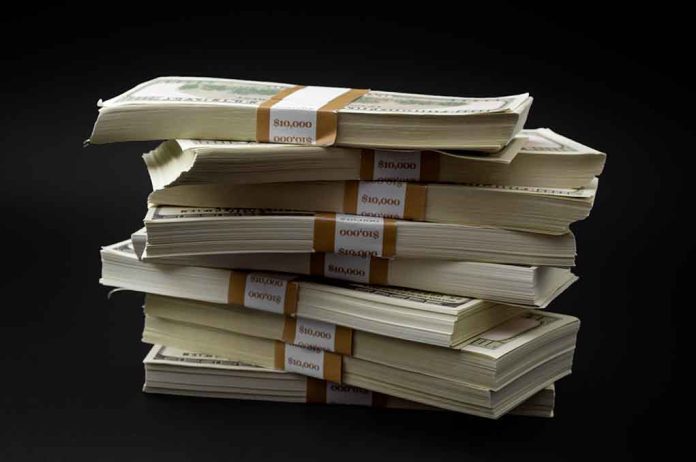 Dem-Connected Dark Money Payments Are Raising Eyebrows
(LibertySons.org) – Senate Majority Leader Chuck Schumer (D-NY) and Speaker of the House Nancy Pelosi (D-CA) are quite outspoken against donations toward campaign funds from untraceable sources. Called dark money, these funds are possible sources of corruption, and Democrats berate the GOP for accepting them. But in the midterms, the Left seems to be benefiting the most from these ill-gotten gains, with $20 million in donations from dark money groups going to the Senate Majority and House Majority PACs. Hypocritical much?
Schumer's Ties to Dark Money
Schumer has been especially critical of dark money. He said groups should disclose who gives them money and pleaded for campaign finance reform to require naming donors. However, Majority Forward, a nonprofit headed by Schumer's ally, J.B. Poersch, gave almost $15 million to the Senate Majority PAC. It was the group's largest donor.
Majority Forward gave about $75 million for the 2020 and 2022 election cycles. And yet, it is incredibly difficult to know where even a penny of that money came from because the organization doesn't disclose donor identities.
In comments to Fox News, the nonprofit's spokesperson blamed the GOP for not allowing transparency in campaign finance. The representative said the group only follows the current rules, and it intends to "level the playing field for Democrats" because Republicans have special interests on their side.
Pelosi Isn't Innocent Either
Pelosi also speaks out regularly against these untraceable contributions. She has publicly ranted about how the Republicans embrace dark money and work to keep it within the campaign system.
What is @HouseDemocrats' #ForThePeople Agenda?
✔Lower health care costs & reduce the price of Rx drugs
✔Raise wages & create good-paying jobs rebuilding America's infrastructure
✔Clean up corruption & reduce the role of dark money in politics pic.twitter.com/ri3vUhRpsk

— Nancy Pelosi (@SpeakerPelosi) August 13, 2018
While she certainly makes this out to be a GOP issue, she's obviously overlooking what is happening within her own party. House Majority Forward, a nonprofit with anonymous donors, gave over $2.5 million to the House Majority PAC, which will help benefit the speaker in her bid to hold on to her seat in the next election.
The 2020 Impact
In an overzealous effort to defeat Donald Trump, the Democrats seemed to throw away all rules and ethics regarding donors during the 2020 election cycle. According to The New York Times, Democrats were taking the most untraceable funds. They received $1.5 billion in 2020, whereas Republicans got only $900 million.
Perhaps the Left should look in the mirror before speaking out again about dark money.
~Here's to Our Liberty!
Copyright 2022, LibertySons.org