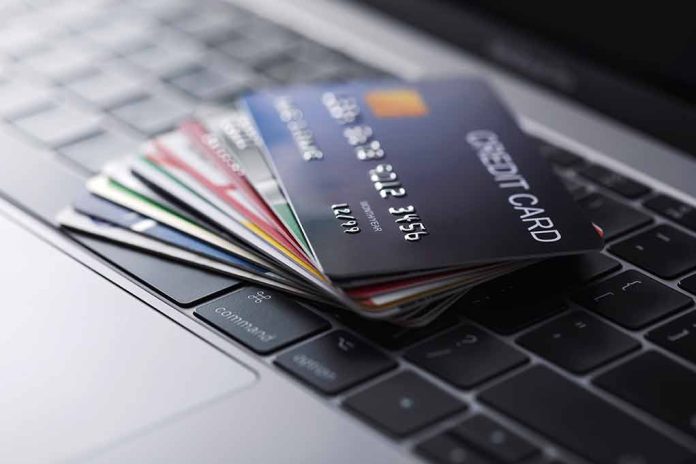 (LibertySons.org) – There's nothing wrong with helping people out, except when you're not using your own money to do it. Recent revelations show a credit card belonging to Representative Majorie Taylor Greene's (R-GA) campaign was used to fund a project for another potential Republican candidate.
Creating Controversy
Controversy has surrounded several GOP lawmakers, candidates, and supporters over the past few years. Aside from former President Donald Trump and his many ongoing legal battles, Kanye West, also known as Ye, has been one of the most controversial figures in the Republican party, possibly with the exception of Representative George Santos (R-NY), considering the mountain of federal criminal charges he faces in New York.
West has been embroiled in controversy since declaring he may run for president and for his habit of making anti-semitic remarks. The former rapper also attended a dinner with Trump and neo-Nazi enthusiast Nick Fuentes.
West has once again found himself at the center of potential turmoil. However, he may not have been behind Milo Yiannopoulos' decision to use MTG's campaign card to finance the purchase of a web domain, "ye24.com" on GoDaddy.com while he worked for her as an unpaid intern. The conservative activist bought the domain for the former rapper's still-unannounced 2024 campaign in late 2022. On November 22, GoDaddy billed Greene's senior advisor, Isaiah Wartman, over $7,000.
The Georgia Representative's campaign filings confirm the payment was made. However, West's committee claimed it paid Yiannopoulos nearly $10,000 for what it called a "domain transfer."
Legal Fallout
The revelations come as Patrick Krason, West's most recent treasurer, resigned and blew the whistle on Yiannopoulos potentially committing fraud. According to Brendan Fischer, a campaign finance law expert who spoke to The Daily Beast, there are several potential violations of the law regarding the situation.
Fischer explained that if Greene's campaign knowingly used the credit card, it would be an "excessive and unreported in-kind contribution" to the former rapper's campaign. However, the legal specialist noted that if Yiannopoulos used the card without the knowledge of Greene's campaign, he would be on the hook for a "range of serious violations," in addition to the fact he would've caused the Representative's campaign to "file false reports."
Paul Ryan, an expert in campaign finance, mentioned the possibility that Yiannopoulos converted Greene's donations into money for his own personal use. Ryan also noted the wording of the relevant statute suggests that no one is allowed to convert funds for personal use. Regardless of who is at fault, there are serious legal implications surrounding these revelations. The operative question at this point is — what will be done about it?
~Here's to Our Liberty!
Copyright 2023, LibertySons.org