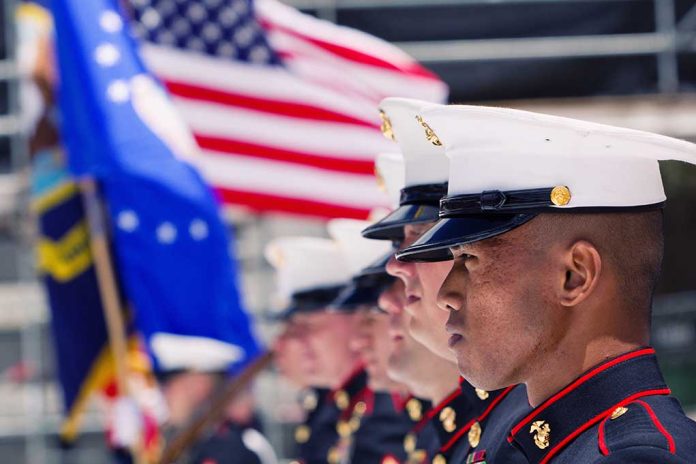 (LibertySons.org) – President Joe Biden's private sector vaccination demands continue to face opposition and legal barriers that render them temporarily inert. In the military, however, stiff guidelines remain firmly in place. While it isn't yet possible to judge the full impact of vaccine requirements for service members, an exclusive ABC News report suggests the measures are taking a heavy toll on numbers in the Marine Corps.
The Marines recently discharged a total of 103 members for failing to get vaccinated before the set deadline of November 28. Officials say they are still processing exemption requests, preventing them from handing down final decisions on all cases.
Report: Biden's DOD discharges 103 unvaccinated Marines – https://t.co/b1nI5VIqsS #OANN

— One America News (@OANN) December 17, 2021
Around 95% of Marine Corps have received at least one dose of the COVID-19 vaccine. However, those statistics trail steeply behind numbers gathered from all other military branches. Officials have also approved just 1,007 exemptions. They claim none of those approvals were for religious reasons, despite receiving around 3,144 applications on the very same grounds.
Service members who fail to meet the mandate will be honorably or generally discharged per Congress's 2022 National Defense Authorization Act (NDAA) on December 15. Projections show that 30,000 members from all branches could face removal from service for their decision to abstain from vaccination.
Senator Ron Johnson (R-WI) recently wrote a scathing letter to Defense Secretary Lloyd Austin imploring him to explain the vague requirements to Congress. He's also asking for more information on how the military views natural immunity.
~ Here's to Our Liberty!
Copyright 2021, LibertySons.org