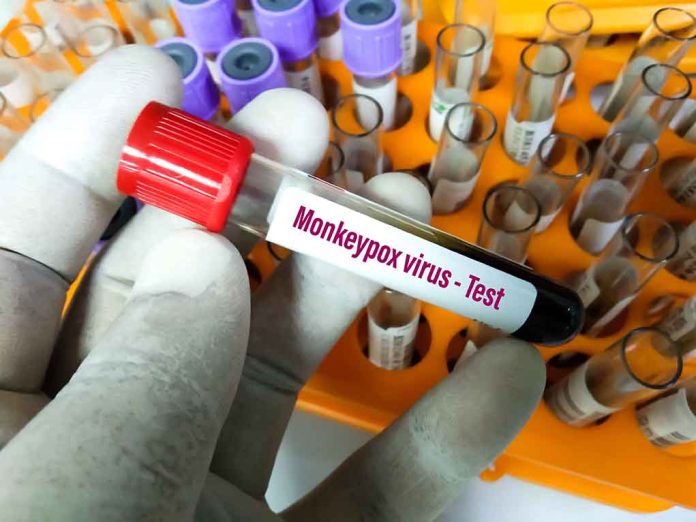 U.S. State Hit by Mysterious Outbreak
(LibertySons.org) – The Centers for Disease Control and Prevention (CDC) announced on May 18 that a person in the US who had recently visited Canada tested positive for monkeypox. The agency is also watching cases in other parts of the world, but it's still unclear how the people were exposed. The BBC reported nine confirmed cases of the infection in the UK as of May 19.
All About Monkeypox
The CDC explained monkeypox first infected humans in 1970 in the Democratic Republic of Congo. Most cases still occur there, although rare outbreaks can happen in other countries.
This viral infection is in the same genus as smallpox and has the same symptoms but is not as severe. People infected may have fevers, headaches, muscle aches, chills, and fatigue. They will also develop rashes of lesions that spread gradually across the body, usually lasting two to four weeks.
Transmission can occur through respiratory droplets or direct contact with the lesions or seepage. It can pass to humans from other humans or animals. Because direct contact can spread the virus, it could pass during sexual activity as well. It is important to note prolonged contact is necessary for the transmission.
Current Situation
Monkeypox is generally a rare infection. The patient in the United States is in Massachusetts. The Massachusetts Department of Public Health explained the individual is an adult male. Professionals are working with other health officials to track down anyone who may have had contact with the man, but they say there is no risk to the public.
Prior to the Massachusetts incident, the US saw two cases in 2021 in Texas and Maryland. The individuals in those situations had recently been in Nigeria.
NPR reported on May 20 that the outbreak included infections in various countries in Europe. Authorities have identified 23 infections in Spain and 17 in Canada, in addition to those in the UK. Cases have also occurred in France, Italy, Portugal, and Sweden.
ABC 7 reported another possible case in New York. The New York City Department of Health and Mental Hygiene confirmed to the outlet that it is investigating a patient at Bellevue Hospital.
Hearing about an outbreak of a virus may put people on edge due to the COVID-19 pandemic. However, monkeypox does not spread as quickly or easily as coronavirus. Authorities only released information to keep the public informed and to warn those traveling to certain areas of the increased risk.
~Here's to Our Liberty!
Copyright 2022, LibertySons.org