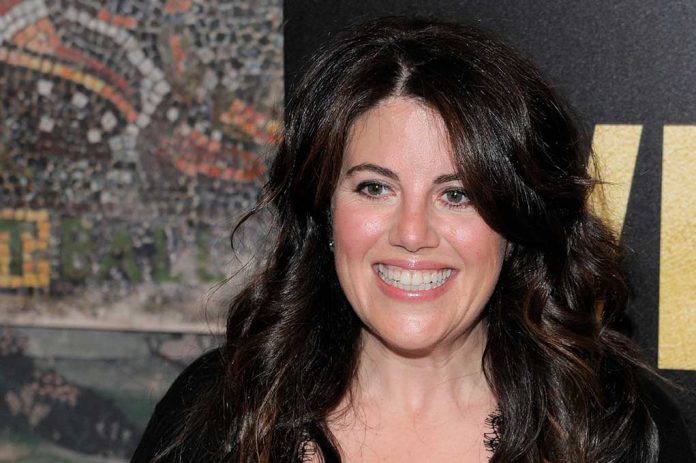 (LibertySons.org) – The third part of American Crime Story on FX will debut on September 7. The story of the impeachment of William Jefferson Clinton comes to America through the eyes of the woman at the heart of the scandal, Monica Lewinsky.
She was a young intern working at the White House when she was thrust into the national spotlight. At the time, Lewinsky had no control over anything, and the media often drug her through the mud.
Today, Lewinsky is making sure the real story comes out as a producer of the FX crime series. She is very open to providing a raw look into just what happened behind the scenes in the Oval Office with the most powerful man in the US.
The series has a sense of realism that comes from Monica helping the actress who portrayed her. Lewinsky has been very straightforward about revealing events and details that could be uncomfortable for her. She understands that keeping points, such as the infamous thong flash, out of the script would have served as a disservice to the audience.
Monica Lewinsky advocated for 'American Crime Story: Impeachment' to include a thong-flashing scenehttps://t.co/W97nowyrnQ

— Fox News (@FoxNews) August 26, 2021
In an interview with The Hollywood Reporter, the former intern was honest about her role in the scandal. Lewinsky wasn't afraid to admit that she held some responsibility for the affair and didn't attempt to sugarcoat events in an attempt to protect herself. Above all, Monica said she wanted the project to be accurate, so she threw herself wholeheartedly into providing as much information as possible.
With the introduction of this new American Crime Story installment, It seems Monica Lewinsky has finally been able to take over the narrative of her story through this exciting new American Crime Story installment.
~Here's to Our Liberty!
Copyright 2021, LibertySons.org