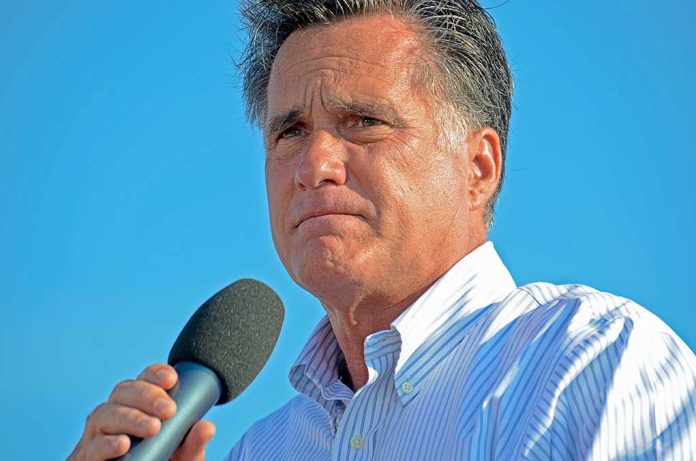 (LibertySons.org) – Sen. Mitt Romney (R-UT) filed a Statement of Candidacy with the Federal Election Commission on Tuesday, April 11, as a first step toward running for reelection. Although the senator easily won the 2018 GOP nomination and election, he'll face a new challenger who could personify Romney's worst political nightmare. Trent Staggs, the Republican mayor of Riverton, has declared his intention to run for the Senate nomination because he feels the incumbent has abandoned the conservative values Utah citizens hold dear.
Staggs' Platform
The Riverton mayor explained why he felt compelled to run for Romney's senate seat to Fox News. "I love my children," Staggs began. He continued, talking about his concerns regarding the country his kids will inherit if he sits "on the sidelines" while bureaucrats habitually "spend away the next generation's future." He pointed out the importance of speaking out against unrestricted spending.
Staggs feels Romney has "helped drive us deeper in debt" by refusing to stand with Sen. Mike Lee (R-UT) and other Republican lawmakers regarding the debt ceiling issue. The mayor also pointed to the incumbent's two historic votes to impeach former President Donald Trump. Staggs believes those votes juxtaposed against his votes to confirm Supreme Court nominee Ketanji Brown Jackson and cabinet members like Attorney General Merrick Garland, Secretary of State Antony Blinken, and Department of Homeland Security Secretary Alejandro Mayorkas betray conservative values.
In his campaign ad, Staggs says, "We have more IRS agents than border agents," and he laments the billions the government is sending to Ukraine while Americans struggle to pay for groceries and gasoline. After mentioning the nation's nearly $32 trillion deficit, Staggs talks about Romney's broken promises regarding ending illegal immigration, moving toward a balanced budget, highlighting states' rights, and confirming "judges who follow the Constitution."
As Riverton mayor, Staggs is no stranger to controversy. In June 2020, while campaigning to become mayor of Salt Lake County, Staggs directed local police in Riverton to refrain from enforcing mask mandates despite a recent surge in pandemic cases. He said it wasn't the government's place "to dictate our daily lives." He added, "Not in my town." He strongly believed individuals could make better decisions for themselves.
Will Romney Run?
Despite filing the paperwork in April, Romney told reporters he hadn't yet decided whether to run for reelection or to make another bid for the GOP presidential nomination, according to The Hill. In a statement, the senator's chief of staff, Liz Johnson, told Jewish Insider the senator would "make a final decision in the coming months." She said the office would ensure the senator was "well-prepared to run if he chooses."
Richard Davis, a political science professor at Brigham Young University, told The Hill Romney could face a tough race this time. Davis said, "I think that's why he is giving this some pause."
Still, a GOP strategist, Vin Weber, told the Hill he believes the senator will run for another term. "Mitt Romney is incredibly dedicated to public service," said Weber.
Most pundits give the senator good odds should he decide to run again. Some believe his success is tied to his history of service in the state, while others feel Utah Republicans tended to vote less along MAGA principles than traditional establishment Republican lines.
~Here's to Our Liberty!
Copyright 2023, LibertySons.org