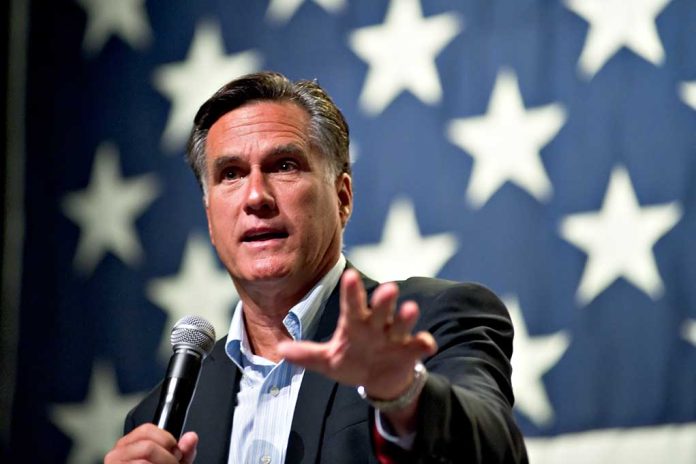 (LibertySons.org) – Senator Mitt Romney (R-UT) was once the Republican party's star and carried the GOP's nomination in 2012 when he lost to then-President Barack Obama. However, in recent years much of the Republican party has largely turned against the Utah senator for his overly moderate approach to politics. Now, Romney is facing severe criticism and a censure request from some of his colleagues in Utah.
Many within the Republican party feel the Utah senator has turned his back on them and the GOP as a whole. The sentiment has even found its way into the Beehive State. As dismay over Romney's decision to side with Democrats on numerous occasions grows, the Republican Party Convention in Utah's Emery County is set to debate and ultimately vote on whether or not to censure the senator.
The proposed Emery County GOP censure accuses Romney of several things, including giving "aid and comfort to the Democratic party" for voting to convict Trump during his first impeachment trial.https://t.co/o19aImTrc7

— The Salt Lake Tribune (@sltrib) March 29, 2023
Much of the Emery County GOP's desire to condemn Romney stems from the Republican's decision to side with Democrats in both impeachments of former President Donald Trump, who undoubtedly remains influential within his party. On March 29, The Salt Lake Tribune reported that the Emery Country GOP Convention's Resolution Censuring Senator Romney details how he provided Democrats with comfort and aid during Trump's first Senate trial. The proposal also claims the former president's impeachment relied on "false charges."
Likewise, the resolution explains the Utah Republican backed the Democrats' false narrative in the former president's second impeachment trial.
Additionally, the proposal also claims Romney sided with Democrats and voted for an "unconstitutional gun control bill" that violated the Constitution's Second, Fifth, and Fourteenth Amendments.
Despite the dismay, many within the GOP hold towards Romney, Jesse Sloan, one of the resolution's three sponsors, asserted he could still potentially support the failed presidential candidate in the upcoming 2024 election. However, Sloan doesn't believe such an idea will become a reality.
~Here's to Our Liberty!
Copyright 2023, LibertySons.org