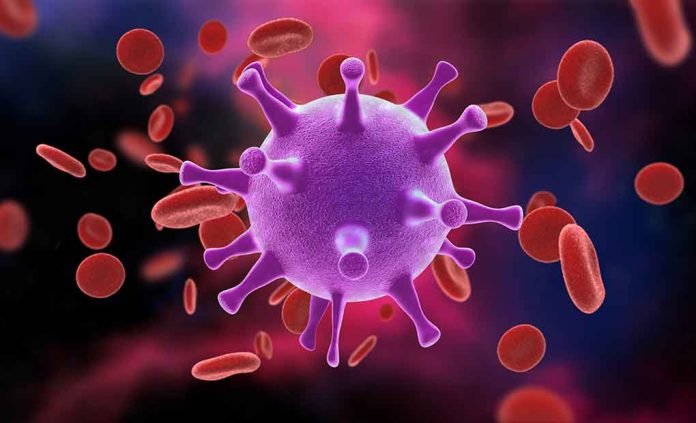 (LibertySons.org) – In the 1980s, a positive diagnosis was ultimately a death sentence at the height of the HIV/AIDS epidemic. However, science and medicine have advanced so far that most HIV-positive people can now live long and healthy lives even while infected. While researchers continue to search for a cure, an incredible new report shows one patient's body managed to fight off the virus with only minimal intervention.
According to the Annals of Internal Medicine, a 31-year-old woman in Argentina took antiretroviral therapy for six months while pregnant. She received no other treatment. Tests later failed to identify any undetectable levels of the virus in her body. This effect is remarkable because, while antiretrovirals can reduce viral loads, that effect typically ends shortly after a patient stops taking the drugs.
What's even more impressive is that the unnamed woman is the second patient to experience this phenomenon. Doctors recorded the first example in San Francisco.
A second HIV patient has cleared the virus without antiviral drugs https://t.co/5bE8S0EeRD

— TIME (@TIME) November 17, 2021
Dr. Xu Yu, the lead researcher, working on the patient's case, said the woman's immune system ultimately cleared the virus, including HIV reservoirs that allow it to remain in the body and duplicate over several decades. The doctor called the situation a natural cure.
Other similar cases where patients managed to clear the virus from their system occurred in two men who received stem cell transplants for cancer. In both instances, experts believe the donor cells were able to block the infection. Unfortunately, however, both of the men involved still tested positive for HIV reservoirs.
Dr. Yu continues to monitor the most recent 31-year-old patient, who is currently pregnant for the second time. Yu plans to take blood and breast milk samples to try and identify whether HIV remains in her body in any form.
~Here's to Our Liberty!
Copyright 2021, LibertySons.org