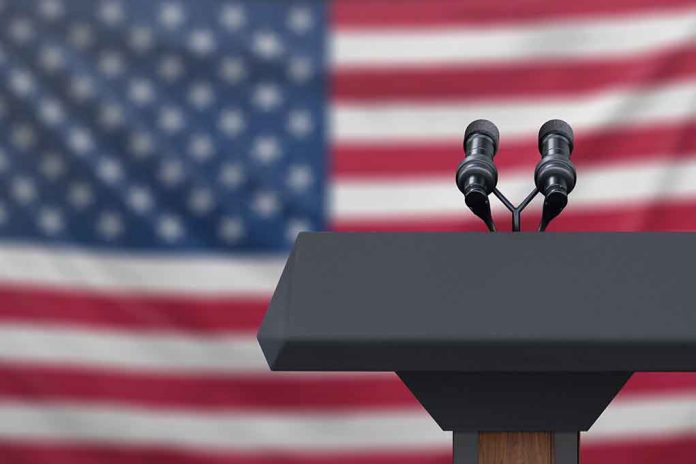 (LibertySons.org) – The Conservative Political Action Conference (CPAC) took place in DC in 2023 after spending the last few years in Orlando, Florida. The event began on Wednesday, March 1, and ended on Saturday. The event featured speeches from figures such as former President Donald Trump and former Ambassador Nikki Haley, the only Republicans who have announced their presidential runs in 2024 so far. Notably absent from the lineup were former Vice President Mike Pence and Florida Governor Ron DeSantis.
Despite being considered potential candidates for 2024, both men decided not to attend this year's gathering. According to a local news station, News 4 Jax, DeSantis declined the invitation but didn't elaborate on his decision. The Florida Republican spoke at last year's CPAC.
The governor is a top prospect to run for the White House, and recent polling figures show he would likely serve as Trump's primary contender. However, DeSantis has remained tight-lipped about his future plans. The governor has been keeping a low profile while attending political fundraisers and meetings with political donors in South Florida.
DeSantis, Pence to skip CPAC 2023—Trump to give keynote speech

Haley and Vivek also appearing https://t.co/1Hif0LAa8F

— Jack Posobiec 🇺🇸 (@JackPosobiec) February 27, 2023
ABC News reported that the former vice president also decided to forego this year's CPAC, declining his invitation to the event. Pence, the former governor of Indiana and Trump's second in command, has been weighing a potential White House bid but has yet to make a conclusive decision. The former vice president hasn't attended the conference in a while, skipping the event in both 2021 and 2022.
Despite the absence of some big names, which CPAC spokeswoman Megan Powers declared was a "missed opportunity" for anyone looking to make a 2024 presidential bid. Trump delivered the event's keynote speech, and attendees heard from more than 100 premiere speakers, including over 30 elected officials.
RNC chairwoman Ronna McDaniel was on hand for the event and said she expected any 2024 presidential contender to pledge support to the party's nominee.
~Here's to Our Liberty!
Copyright 2023, LibertySons.org