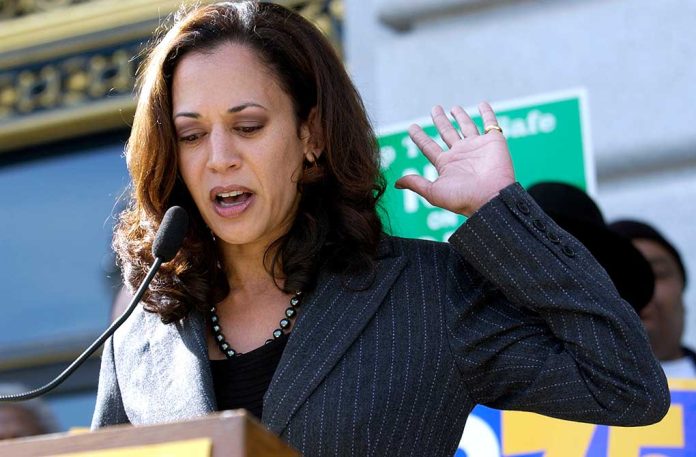 (LibertySons.org) – The federal government's Title 42 expulsion policy officially ended one minute before midnight Eastern Time on Thursday, May 11. The southern border is seeing record numbers of migrants seeking asylum already, and Texas Governor Greg Abbott (R) is continuing his practice of transporting willing candidates to sanctuary cities throughout the US. Two of his buses unloaded immigrants outside Vice President Kamala Harris' home at the Naval Observatory surrounding the termination of that Trump-era program.
Two buses delivered nearly 70 immigrants, mostly Venezuelans, to Harris' gates on Wednesday and Thursday. A third busload arrived on Mother's Day, May 14. A charity relief organization, SAMU First Response, met the buses to provide the individuals with food, emergency shelter, orientation, and options for their next steps.
Two busloads of more than 70 migrants from the Texas border are dumped on VP Kamala Harris' doorstep in Washington DC – as Governor Greg Abbott says he's sent 17,000 to DC, NYC, Chicago and Philly 
via https://t.co/iHZdWAFmOp https://t.co/nZfDtQBXmx

— Hell on Heels 🇺🇸🇺🇸🇺🇸 MAGA (@HellOnHeels2020) May 12, 2023
Abbott has transported at least 17,000 migrants from Texas to sanctuary cities like DC, Chicago, New York, and Philadelphia since April 2022. Last week's delivery represents the fourth time he's sent buses to the Naval Observatory. He began targeting Harris on September 15, 2022, with two busloads, added two more by October 6, 2022, and sent three buses totaling more than 100 migrants on December 26, 2022, during especially cold weather.
The most recent groups transported to DC are facing challenges because the city's temporary lodging program has reached capacity. DC is currently hosting about 370 families, 1249 individuals total, in three area hotels based on information provided by the city's Health and Human Services Department.
DC officials have expressed concern that they may have to turn migrants away without additional funding, which could force families to other cities or to live on the streets without shelter. City officials have appealed to the federal government to seek legal exceptions for immigrants to reduce the burden on local governments and charities while the migrants await their hearings.
Abbott has hoped to make a point with the transports because tiny Texas border towns like Eagle Pass and Del Rio "have no capacity to deal with the number of people coming across the border." Abbott has hired a new state Border Czar, Mike Banks, and established the Texas Tactical Border Force to handle the influx of migrants into the state.
~Here's to Our Liberty!
Copyright 2023, LibertySons.org