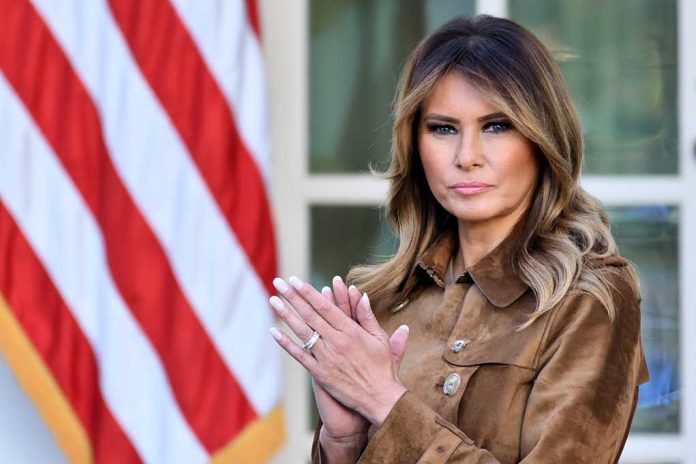 (LibertySons.org) – Donald Trump recently became the first former commander-in-chief to face criminal charges after his indictment and arrest in connection with Manhattan District Attorney Alvin Bragg's investigation. As the former president went on an Easter Sunday rant, his wife Melania kept it classy, simply posting a photo of a pink rose with the caption "Happy Easter!"
The former First Lady's seemingly simple post is the first time the public has heard from her since her husband's indictment. While the 45th President's father-in-law, Viktor Knavs, attended Trump's speech at his Mar-a-Lago residence after flying back from his arraignment in New York, the former First Lady was nowhere to be seen.
Happy Easter! pic.twitter.com/QS0nZuu9Fr

— MELANIA TRUMP (@MELANIATRUMP) April 9, 2023
While the former First Lady kept her Easter Sunday post simple, her husband was another case altogether. Trump took to his social media platform, Truth Social, to wish everyone a happy Easter. The former president even extended the formality in all caps to people who "dream endlessly" of America's destruction. Trump also warned "pathetic RINOs, Radical Left Democrats, Socialists, Marxists, & Communists" that "we will be back."
Additionally, the former first lady's office posted a two-part thread on her Twitter account addressing the media's efforts to speak on her behalf.
The post warned that news outlets had made several "assumptions" about Mrs. Trump on personal, political, and professional topics citing "unnamed sources to lend credence to their claims. Melania Trump's Office advised readers to exercise "good judgment" regarding articles not citing the former first lady as their source.
We ask readers to exercise caution and good judgment when determining whether or not stories concerning the former First Lady are accurate, particularly when they fail to cite Mrs. Trump as a source of information.

— Office of Melania Trump (@OfficeofMelania) April 11, 2023
The former president is facing 34 felony counts of falsifying business documents to cover up his alleged hush money payments to adult film actress Stormy Daniels. Trump has consistently denied any wrongdoing, instead accusing the Manhattan District Attorney's office of conducting a politically-based witchhunt. Trump has pleaded not guilty to all 34 counts.
~Here's to Our Liberty!
Copyright 2023, LibertySons.org