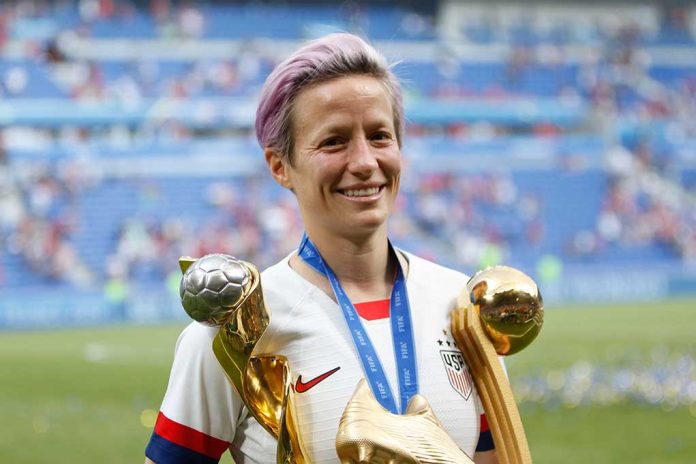 (LibertySons.org) – One thing is quickly becoming clear about the "woke" crowd: they are beginning to turn on their own. Critics of cancel culture have long said the tactics of digging into the pasts of celebrities and other public figures would eventually lead to this.
The latest victim is outspoken Megan Rapinoe, the women's national soccer team captain and professional player. A tweet from May 19, 2011, resurfaced, showing her making what appear to be anti-Asian remarks.
'U Look Asian With Those Closed Eyes': Woke Megan Rapinoe Mocked Asians In Unearthed Tweets. https://t.co/7LQug2RYv7

— Rose Carol (@RoseCarol3) June 17, 2021
The questionable content included a statement tagging tasha_kai00, whose account was deleted but traced back to Natasha Kai, a former professional soccer player. The tweet stated, "u look Asian with those closed eyes!" Kai's heritage includes Filipino, Chinese, Hawaiian, and Caucasian.
Some people have accused Rapinoe of being a hypocrite since she has been quite loud about her intolerance for racism. She made several controversial remarks in the wake of the January 6 incident at the Capitol Building, including references to white supremacy and a call to punish racist actions "to the fullest extent."
News of the Tweet came right after Victoria's Secret announced on June 16, 2021, that Rapinoe would be part of its new VS Collective, which will replace the famous angels. Some people have called for the company to remove her from the lineup, claiming she is no longer a proper role model.
This situation is a reminder of the dangers of casting stones at others, particularly when a person has anything less than an immaculate past.
~Here's to Our Liberty!
Copyright 2021, LibertySons.org