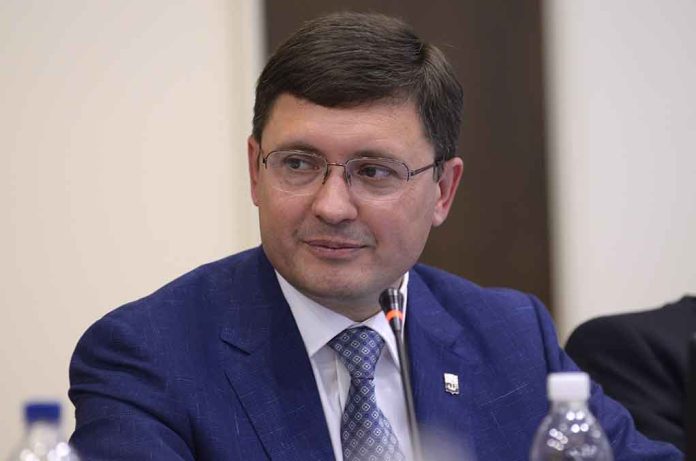 (LibertySons.org) – Mariupol Mayor Vadym Boychenko revealed in an April 11 interview with the Associated Press (AP) that there were over 10,000 civilian deaths in the port city, as Russian troops continued their assault. He projected the toll to rise to over 20,000. He accused the Kremlin of trying to cover up all its destruction.
The new drone footage of the theatre bombed in #Mariupol by Russia is devastating.

Written on the ground outside the Russian word for "children," over 300 people were killed in the strike.

The mayor is reporting over 10,000 dead in #Mariupol or more. pic.twitter.com/d7YWxmHDUC

— 🇺🇦Skyleigh Heinen🇺🇸 (@Sky_Lee_1) April 11, 2022
Boychenko said bodies filled the streets. He said Russian soldiers brought mobile cremation equipment to dispose of Ukrainian remains, moving the deceased to a shopping mall with storage facilities. The leader also claimed the troops kept humanitarian aid from getting into the area so they could hide the evidence of their misdeeds.
Since Russia began its campaign against Ukraine in late February, officials have consistently claimed troops have attacked areas containing civilians. Various news stories revealed bombings of a children's hospital, train station, shopping mall, and theater.
Russian troops continue to bombard and attack Mariupol. The city is a scene of utter devastation. It once had a population of around 500,000, but the majority of residents have fled for their lives. Only about 120,000 people remain, according to the AP. Officials report the supplies of food and water are low and those who stayed have limited access to medicine as well.
~Here's to Our Liberty!
Copyright 2022, LibertySons.org