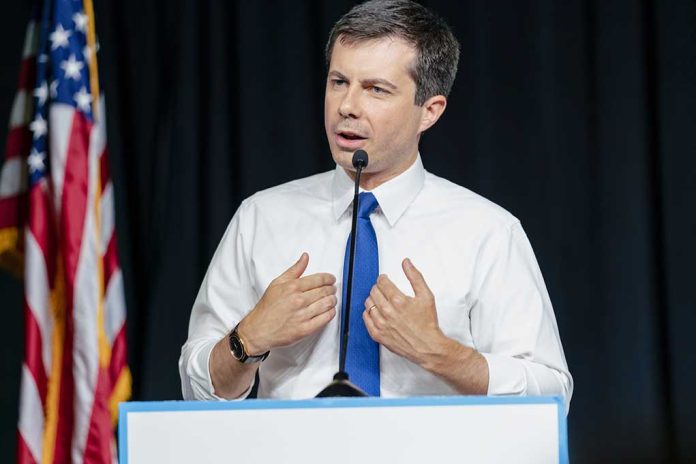 (LibertySons.org) – The Biden administration has been entirely upfront about its climate agenda. Wanting to place the United States front and center in the world movement has been a main priority, and Department of Transportation (DOT) Secretary Pete Buttigieg has been a huge supporter. The administration even flooded the department with $6.4 billion to reduce carbon emissions in April 2022. But Buttigieg might not be as committed to the cause as he appears to be. He flies frequently on heavy carbon-emitting private jets.
Report: Pete Buttigieg Flew on Taxpayer-Funded Jet for Day Trip to NYC https://t.co/0tihQuXoqk #SocialMedia #News #BreakingNews

— US Burning (@UsBurning) January 11, 2023
A report from Fox News revealed the DOT secretary took a private government jet from Washington, DC, to fly into New York City on April 7, where he stayed for less than a day. While in the city, his schedule included a meeting with Deborah Archer, president of the American Civil Liberties Union, which lasted for 40 minutes, another meeting with employees in the DOT for 20 minutes, and an hour-long interview with "The Breakfast Club" radio show.
Surprisingly, Buttigieg returned to NYC the next day for a National Action Network convention and an interview on "The View." He flew on a commercial airliner there and took a train home.
Given the secretary found many alternative ways to get back and forth between Washington and NYC, the question arises as to why he took the expensive and high-polluting jet the first time. A DOT spokesperson said the cost for the plane ride was lower than other options despite data showing the fuel alone would have cost $1,060.
This NYC trip isn't the first time Buttigieg is getting criticism for using private jets. Fox News reported that since taking office, he's flown 18 times on these planes. His history creates the impression he isn't too concerned about his carbon footprint.
Aside from the plane ride controversy, the secretary has been under fire for other things like the mishandling of the supply chain over the past three years, the airline fiasco over the holidays, and the Federal Aviation Administration breakdown that grounded all flights on January 11.
~Here's to Our Liberty!
Copyright 2023, LibertySons.org