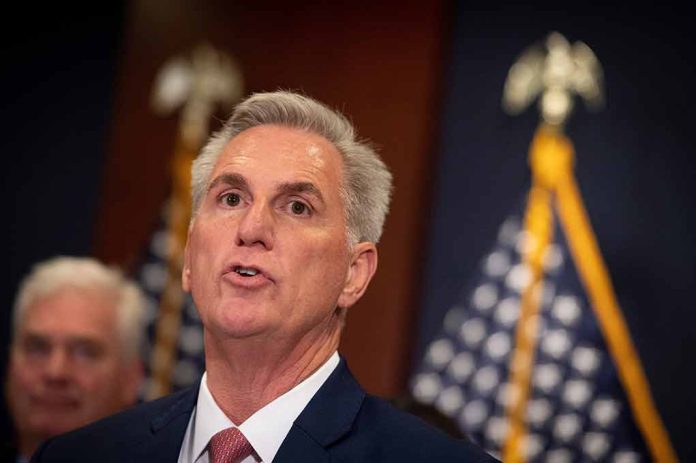 (LibertySons.org) – Speculation has grown during the debt ceiling negotiations that Speaker Kevin McCarthy (R-CA) was walking a virtual tightrope. Media outlets have conjectured that the Freedom Caucus could invoke the one-person motion to vacate if one or more conservative members believed the Speaker didn't serve their principles with integrity. Yet, Matt Gaetz (R-FL), one of McCarthy's harshest critics as he sought the Speaker position, recently responded to the replacement rumors, putting concerns that he might oust McCarthy to rest.
On Wednesday, May 24, Gaetz told the Washington Examiner he had "no plans" to discuss removing McCarthy from his position. He went on to say it would be unproductive to remove party leaders over minor policy disagreements because "no speaker would last a single day." Instead, he said he expected the Speaker to "deliver on the promises he made in January." He called McCarthy's record in that regard "admirable" thus far.
On Monday, May 22, Gaetz tweeted, "nobody except the press" is currently floating the idea of ousting McCarthy. On Tuesday, Gaetz told media outlets, "The one-person motion to vacate has given us the best version of Speaker McCarthy." The Florida conservative believes that maintaining pressure on McCarthy will continue to prompt him to toe the conservative line.
During negotiations, the Speaker has continued pushing the points in the Limit, Save, Grow Act passed by the GOP-led House. Negotiations have progressed slowly, at best. Republicans have demanded budget cuts, while the Biden administration has offered to maintain spending levels without increases. Democrats have suggested raising taxes on the wealthiest Americans and corporations to trim the deficit, but Republicans have rejected that strategy.
Treasury Secretary Janet Yellen and financial experts warn a default would likely result in a catastrophic national and global recession. Some 8 million people could lose jobs, and Social Security beneficiaries, military families, government workers, and veterans could go unpaid.
~Here's to Our Liberty!
Copyright 2023, LibertySons.org