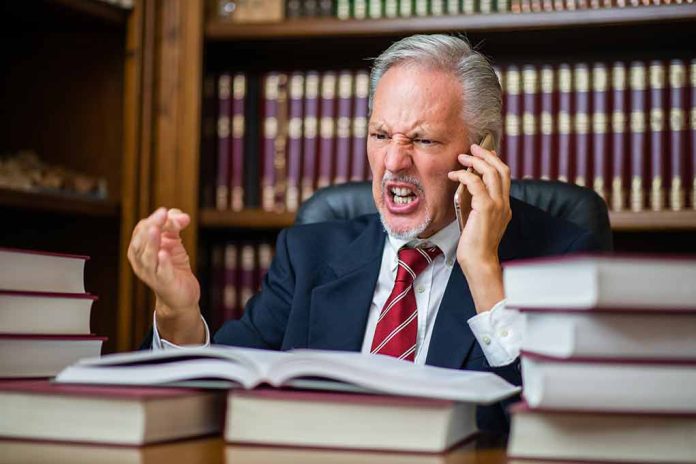 (LibertySons.org) – Former Trump Chief of Staff Mark Meadows, who has been charged alongside the MAGA leader and 17 others in the Georgia election proceedings, recently lost his bid to move his case from the state court to a federal venue. He immediately appealed and sought an emergency stay, and the Eleventh Circuit Court of Appeals agreed to see the case. Meadows has until September 18 to file his initial briefs, and Fulton County District Attorney Fani Willi has until September 25 to respond.
Meadows' lawyer had previously asked for an extension to his case, according to a court filing, but the district attorney rejected it. They stated that all the other defendants had until August 25 to surrender themselves, and Meadows should be no different.
Meadows' defense disagrees. Unlike the rest of the defendants, the former chief of staff claims he served as a federal official when he allegedly committed his crimes. They cite the Supremacy Clause, which protects federal officials against arrest and prosecution in state courts. The defense states that the Georgia court system has worked to prosecute Meadows as quickly as possible, disregarding his efforts to have the case moved, adding that the judge has pushed for a scheduling order that is unrealistic for a case involving 19 defendants and a collective 41 counts.
ABC News reports that others could go to court as soon as October 23. Lawyer Kenneth Cheesebro and former campaign attorney Sidney Powell recently filed to have their cases severed from their fellow defendants' and asked for speedy trials. The judge will likely try the two together, insisting they will still get a fair proceeding.
The 19 defendants in the case face charges related to racketeering, which officials allege was in an attempt to overturn the will of Georgia voters and falsely name Trump the state's presidential primary victor. All have pleaded not guilty, and Trump has accused prosecutors of attacking him for purely political reasons.
~Here's to Our Liberty!
Copyright 2023, LibertySons.org