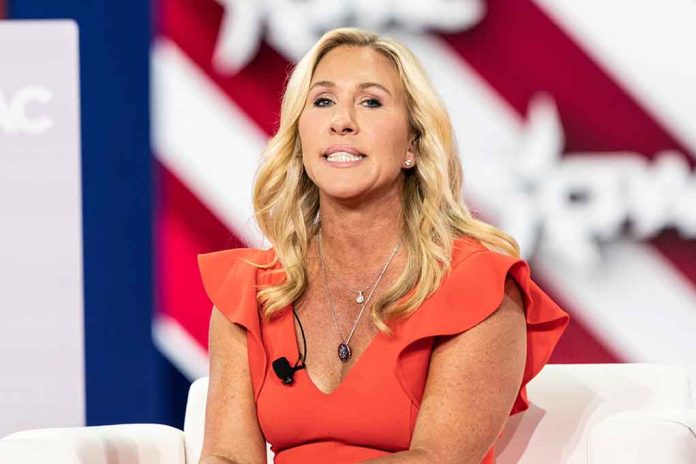 (LibertySons.org) – Former Speaker Newt Gingrich (R) once said, "Perseverance is the hard work you do after you get tired of doing the hard work you already did." That sentiment might apply to Rep. Marjorie Taylor Greene's (R-GA) efforts during the week of May 15, or "impeachment week" as she called it, when she unveiled her intention to file several articles of impeachment against Biden administration officials, including Attorney General (AG) Merrick Garland.
BREAKING: @RepMTG announces that she has filed articles of impeachment against FBI Director Christopher Wray, Attorney General Merrick Garland, DHS Secretary Alejandro Mayorkas, U.S. Attorney Matthew Graves, and President Joe Biden

— Benny Johnson (@bennyjohnson) May 18, 2023
The Georgia lawmaker detailed her claims against Garland. Firstly, Taylor Greene claims the AG weaponized the Department of Justice and the FBI by choosing to politicize investigations and prosecutions against conservative citizens. As examples, she cited parents who voiced concerns about Critical Race Theory in schools, pro-life clinic providers, and workers victimized by violent pro-choice protesters. She also pointed out Garland's refusal to prosecute individuals who harassed and threatened Supreme Court justices at their homes after the SCOTUS Dobbs v Jackson Women's Health Organization decision and Black Lives Matter protesters who targeted municipalities and citizens.
Merrick Garland has weaponized the DOJ against Joe Biden's political enemies.

He's targeted parents who are concerned about their children's education, targeted Christians and pro-life activists & raided the home of a President.

He must be impeached.https://t.co/opsBPdA72G

— Rep. Marjorie Taylor Greene🇺🇸 (@RepMTG) May 17, 2023
Secondly, Taylor Greene alleges Garland has forsaken his oath of office by persecuting former President Donald Trump at the behest of his political opponent, Biden. She cited Garland's approval of the FBI raid of Trump's Mar-a-Lago home as evidence. Additionally, she called out Garland's failure to investigate and prosecute Biden and his family for crimes she claims would disqualify the president from office. The current draft is similar to Taylor Greene's previous resolution from August 2022.
Taylor Greene also targeted FBI Director Christopher Wray, US Attorney Matthew Graves, Secretary of Homeland Security Alejandro Mayorkas,  and President Joe Biden. This would constitute her sixth impeachment resolution against Biden.
The Georgia representative doesn't stand alone. In 2022, Congress filed 14 impeachment resolutions. Including Taylor Greene's resolutions, the 118th Congress has filed eight so far in 2023.
~Here's to Our Liberty!
Copyright 2023, LibertySons.org