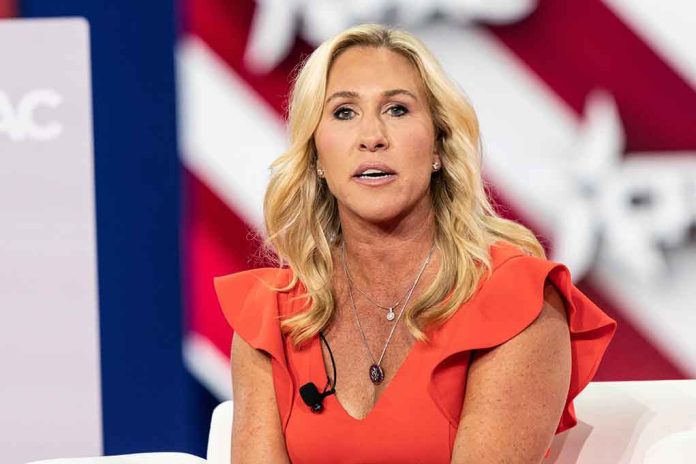 (LibertySons.org) – On April 24, a lawyer representing Hunter Biden sent an email to the Office of Congressional Ethics asking for a review and disciplinary action over Rep. Marjorie Taylor Greene's (R-GA) recent conduct in the Biden probe. It accuses the representative of violating "House Rule XXIII (Code of Official Conduct), Clause 1" by discussing the ongoing case publicly and spreading unproven theories.
Abbe David Lowell, Biden's lawyer, pointed to a similar case in which Rep. Matt Gaetz (R-FL) published a tweet meant to intimidate and influence a former Trump attorney. The attorney noted the finding against Gaetz set enough precedent to justify a similar review of Greene's numerous social media posts about Hunter Biden.
Hunter Biden's Legal Team Demands Ethics Probe Over 'Unethical' Statements From Rep. Greene https://t.co/kc49zlAe5O pic.twitter.com/sYYSezZbMG

— Daily Wire News (@DailyWireNews) April 24, 2023
One of Greene's tweets accused the president's son of being involved in a human trafficking ring. Additionally, Greene commented on Truth Social about Hunter Biden's problems with drug addiction and use of prostitutes and published videos of herself standing in front of the Treasury Building while discussing "The Biden crime family."
Another TruthSocial post included a picture of the First Son with two young women the representative alleged were "prostitutes" — but they turned out to be family members. The complaint also notes Greene's "60 Minutes" interview, during which she insisted the entire Democratic party "supports grooming children."
Lowell states that "the House has a duty" to ensure that Greene's "outrageous, undignified rhetoric and brazen violations of the standards of official conduct" don't go ignored. Congressional rules state that all members must behave "in a manner that reflects creditably on the House." Lowell claimed that Greene's continued "verbal attacks, defamatory statements, publication of personal photos and data" do not constitute "legitimate legislative activity" and cannot be excused as "free speech" because the representative has been speaking from a government platform regarding official congressional proceedings.
Hunter is upset over my statements.

Well Hunter, the entire country is pissed off about your obvious influence peddling with your Daddy's political power.

Come chat with us Republicans on the Oversight Committee.

We have a lot of questions.https://t.co/QDTkFJiLlF

— Rep. Marjorie Taylor Greene🇺🇸 (@RepMTG) April 24, 2023
Greene fired back on Twitter with additional accusations about Biden's "obvious influence peddling," inviting him to discuss his grievances with GOP members of the Oversight Committee. She added, "We have a lot of questions."
~Here's to Our Liberty!
Copyright 2023, LibertySons.org