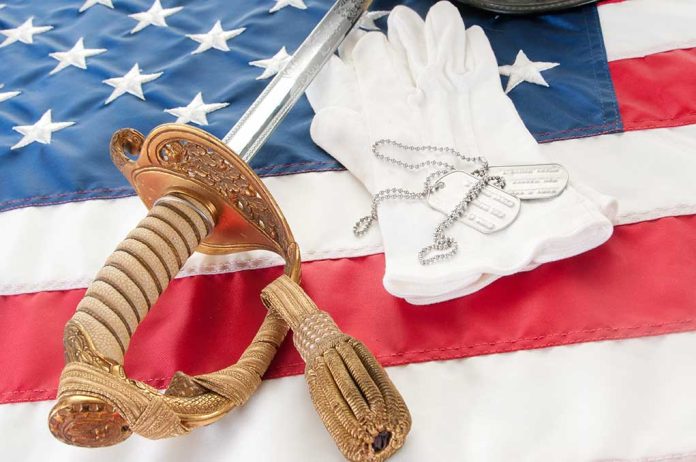 (LibertySons.org) – The death of 13 US service members on August 26 in Afghanistan hit many people hard, but perhaps those most affected were current and former military members. The attack led people to speak out against the Biden Administration and defense leaders, who made bad decisions directly leading to the murders.
One of those speaking out was Marine Lt. Col. Stuart Scheller, who took to social media to speak his mind and air his grievances. While his followers and viewers of his video largely supported what he said, he now faces backlash from the US Marine Corps (USMC).
The Video That Started It All
Scheller was a battalion commander and infantry Marine serving in North Carolina, with 17 years under his belt. He released his original video on August 26. In a post lasting almost five minutes, the marine spoke out against the Biden Administration for its choices regarding Afghanistan, demanded officials hold Biden accountable for his bad decisions, and scolded leaders in the military for allowing the deadly explosion that occurred. He also questioned decisions about withdrawing from Bagram Airbase and said leaders need to accept responsibility for doing this wrong.
The post went viral, receiving 800,000 views by the morning of August 30.
The Aftermath
The USMC Lieutenant Colonel recognized releasing this video, which he made while in uniform, would likely mean he'd have to leave the military. Still, he was ready and willing to "throw it all away" to confront our citizens in power.
On August 27, the USMC relieved him of his duties. The veteran released a statement agreeing with the decision and said he would have reacted the same in their shoes. Now, he's talking about his future.
In a social media post on September 1, the now-former marine revealed he might go to jail if the USMC proceeds with a court-martial. They could very well punish him under the Uniform Code of Military Justice and Department of Defense Directive clause, which bans service members from disrespecting senior government leaders.
He looked at the positive, though, saying doing time will allow him "a valuable opportunity to read, write and contemplate."
In another post, he addressed concerns people have for his well-being, specifically his mental health. Scheller assured his followers he was fine and "it's the system that's going to break. Not me."
Moving Ahead
According to the outspoken service member, the USMC asked him to undergo a mental health evaluation, and he complied. He also submitted a written request for resignation to the secretary of the Navy on August 31.
The same day, he let followers know he's taking a social media break and gave some insight into his current state of mind and the purpose behind the whole situation. Schuller said he did it all for accountability and that without holding those at the top accountable, there's no healing and evolution in the context of both Americans and Marines.
He admits his emotions got the best of him, but he sometimes feels rage is necessary. Continuing, he admitted he doesn't trust reviews of the decisions in Afghanistan will produce honest results. He's unsure anyone will bring change to prevent such mistakes in the future and fix a broken system. He also expressed his feelings that it's time for a "new generation to assume American power." Wrapping up, the former service member said his experiences show people are ready to demand answers and seek changes in all government areas.
If his social media posts are any indication, this is probably not the last the public will hear of Lt. Col. Stuart Scheller. He has passion and a commitment to his country: the truth and justice that are not likely to go away.
~Here's to Our Liberty!
Copyright 2021, LibertySons.org