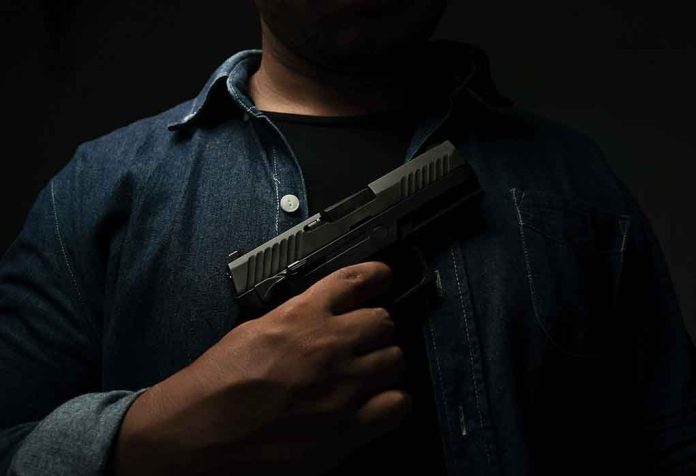 Attempted Kavanaugh Assassin Had One Major Goal…
(LibertySons.org) – In the early hours of June 8, authorities arrested a man outside the home of US Supreme Court Justice Brett Kavanaugh. The suspect had weapons, including a firearm, and told law enforcement he was there to kill the judge. When revealing why he targeted Kavanaugh, part of his reasoning was that he didn't feel the Supreme Court Justice would support additional gun control laws.
NEW: Here's the federal affidavit against the man accused of trying to kill Justice Brett Kavanaugh.

Nicholas Roske allegedly flew from CA to DC. He took a taxi to Kavanaugh's Chevy Chase, Md. home.

Roske was found with a pistol, pepper spray, hammer, screwdriver, crow bar, etc pic.twitter.com/XJd5ZMWwrn

— Kevin Lewis (@KevinLewis7News) June 8, 2022
Authorities first spotted Nicholas John Roske after he got out of a taxi in front of the justice's home. He was wearing all black, carrying a briefcase and backpack. Shortly after arriving, the suspect left the area and called 911 to report his intentions. Officers then arrested him.
Roske's position about gun control seemed odd considering he was armed with a Glock 17 pistol and ammunition at the time of the incident. He specifically stated he bought the firearm for the purpose of killing Kavanaugh and then himself. In addition to the gun, he had zip ties, duct tape, a knife, and pepper spray, all of which he could have used to kidnap the justice and his family.
While in custody, Roske admitted to his plans and explained he was angry at the justice for the recently leaked draft opinion on abortion as well as the latest mass shootings. In his first court appearance, the suspect admitted to the judge that he had not been of clear mind.
~Here's to Our Liberty!
Copyright 2022, LibertySons.org