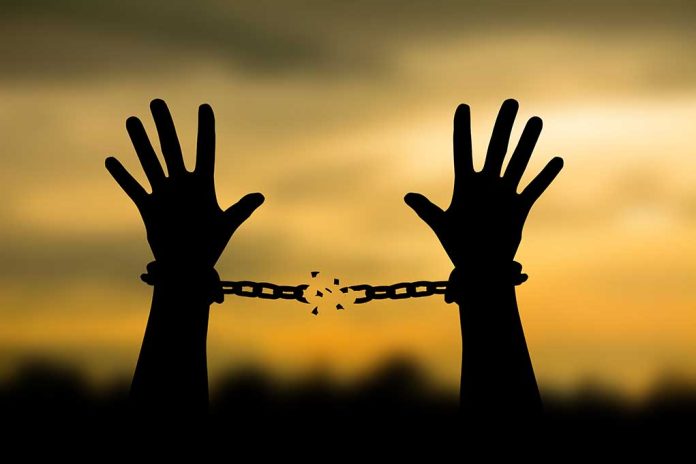 (LibertySons.org) – After the May 2020 death of George Floyd, the city broke out into protests. Many were violent in nature and caused plenty of property damage. The city had to take action to try to calm the protestors and regain control over the streets.
During the turmoil, officers in an unmarked white van shot 29-year-old Jaleel Stallings of St. Paul with rubber bullets, which led to a violent encounter. Because of the situation, Stallings thought he was under attack by protestors. He used his firearm to return fire at the van for which he had a valid permit.
The three shots didn't hit anyone. Once the man realized the van held SWAT members, he put down his gun, laid down on the ground, and surrendered.
Officers closed in and arrested him for two counts of second-degree attempted murder and multiple counts for assault and various charges. A Hennepin County jury then acquitted him on all charges.
George Floyd protester who fired at Minneapolis cops acquitted https://t.co/NaXVTb9EfC

— Fox 40 News (@Fox40News) September 7, 2021
The official testimony of the SWAT members was that Stallings was about to throw something at them and resisted arrest; however, on September 2, the Minnesota Reformer released body camera footage showing officers kicking and punching him as he lay on the ground after surrendering. His booking photo also showed visible injuries to his face.
Judge William Koch said in a pretrial order that the man was lying there, not moving for at least 20 seconds before SWAT approached him. Stallings posed no threat to police, and he ruled the actions a Fourth Amendment violation. The jury agreed and issued the acquittal for self-defense.
A Minneapolis police spokesman said the incident is under internal review in response to questions about whether the officers would face disciplinary action.
~Here's to Our Liberty!
Copyright 2021, LibertySons.org