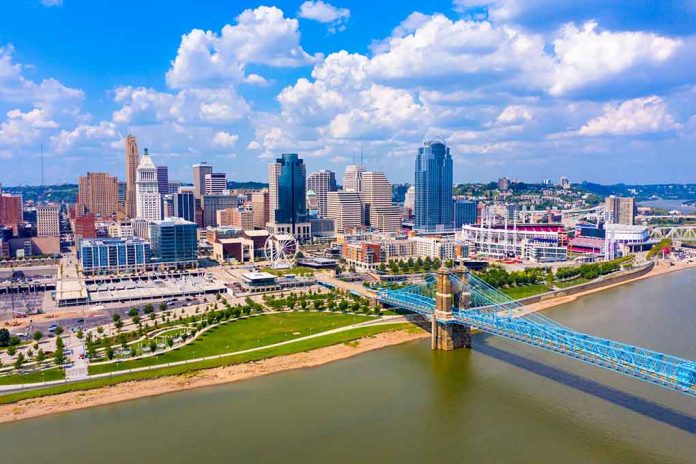 Shot Dead – Feds Take Him Out!
(LibertySons.org) – On August 11, shortly after 9 a.m., an armed man breached the Cincinnati FBI field office in Kenwood, Ohio. A car chase ensued, followed by a shootout with law enforcement and the death of suspect Ricky Walter Shiffer. In the aftermath, investigators tied the event to the raid on former President Donald Trump's home in Florida.
The Incident
Shiffer allegedly entered the visitor's screening facility, which triggered alarms. He then reportedly fired a nail gun at workers inside before brandishing a rifle at responding law enforcement. The man fled the scene in his white Crown Victoria and led officers on a chase down Interstate 71, prompting a closure of the roadways and lockdown warnings for surrounding communities.
Ohio State Highway Patrol spokesman Lieutenant Nathan Dennis explained the suspect eventually stopped his vehicle, leading to a standoff. Officers attempted to negotiate with Shiffer and use non-lethal measures to get him into custody, but he allegedly aimed his gun at the responders, forcing them to take deadly action.
Updated statement on today's incident at the #FBI Cincinnati Field Office: pic.twitter.com/Y6B7alGVdf

— FBI Cincinnati (@FBICincinnati) August 12, 2022
The Investigation
Authorities are looking at Shiffer's potential connection to far-right extremists as a motivating factor. The suspect had allegedly shared on social media communications about killing FBI agents. A post he made on Truth Social during the standoff addressed an attempt to get through the bulletproof glass at the federal facility. The same account had posts earlier in the week about retaliation for the raid at the former president's residence.
The 42-year-old may also have used links to other accounts to brag about his presence at the Capitol on January 6. But there are no charges on file against anyone named Ricky Shiffer.
Some people tie the suspect to Trump and blame the former leader for encouraging this type of behavior. Ohio State Representative Jessica E. Miranda (D) released a statement suggesting the motivation for Shiffer's actions was "violent rhetoric by public officials" and blamed "reckless Republicans" for trying to push people into rioting.
The Potential Catalyst
Since the August 8 raid on Mar-a-Lago, officials have noted an increase in threats against the bureau. Director Christopher Wray addressed the issue, saying violence against law enforcement is never the answer and the calls for attacks on officers need to end.
In a now-deleted statement on his website, the former president said agents had seized his home and were needlessly carrying out an operation with no merit. He claimed he has always cooperated with officials and felt this was a personal attack motivated by politics.
~Here's to Our Liberty!
Copyright 2022, LibertySons.org