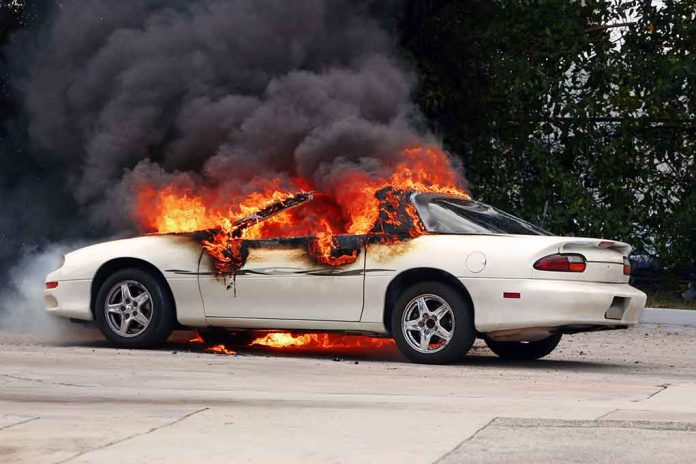 (LibertySons.org) – Automakers are switching their inventories to electric vehicles in response to ongoing encouragement from the White House. Manufacturers insist that the shift is necessary for the fight against climate change and say consumers stand to benefit from it in multiple ways. However, a closer look at the bigger picture suggests that isn't always true; electric vehicles remain prone to numerous issues. One man in Finland became so frustrated with his high-tech electric car that he took extraordinary steps to express his feelings.
Taking Things Into His Own Hands
Tuomas Katainen used 66 pounds of dynamite to blow up his 2012 Tesla Model S after receiving a $22,000 quote to replace the vehicle's battery. But, for safety reasons, he took the failing car to an abandoned quarry in Kymenlaakso, Finland, first.
Katainen, who videoed the explosion before sharing it with the world, says he liked the car during his first few years of ownership. Problems arose when it eventually started throwing error codes. Katainen claims the vehicle spent a month in a repair shop until mechanics finally delivered devastating news: the Tesla required a total battery placement. This repair would set him back nearly $22,000.
Problems Plaguing Electric Vehicles
Battery issues are not the only problem people have with electric vehicles. Reports of issues with the autonomous driving feature plague Tesla's vehicles. Multiple injuries and deaths even prompted the National Highway Traffic Safety Administration to conduct a probe into whether the software contributed to crashes in August 2021. Other concerns include fires, loss of power, starting problems, and batteries losing charge.
The move to all-electric vehicles doesn't quite account for the massive number of combustion engine vehicles in operation. That has the unintended side effect of making it more challenging to own an older vehicle. What happens to them when people can no longer fix them because nobody makes the parts anymore?
When a traditional vehicle reaches the end of its lifespan, it typically ends up at a recycling center, which strips it of parts and recycles any remaining metal. This process doesn't create much waste. But what will happen when consumers swap to electric vehicles and no longer need these second-hand parts? Is the pollution created by the shift worth it, or is the government simply pushing for a different kind of environmental crisis?
The switch to electric vehicles also carries a substantial economic impact. Many new models include a right-to-repair agreement as the technology is unique, and thus, proprietary. As a result, nobody but an approved partner can work or create parts for them. That stands to put countless numbers of repair shops, parts dealers, and others within the industry out of business.
It is also the reason why Katainen received such a gigantic repair bill.
The Future Is Electric
Major automakers continue to move forward with plans to wipe out the combustion engine in favor of electric despite ongoing concerns. General Motors plans to install only electric motors in all of its light-duty vehicles by no later than 2035. Audi recently vowed to stop making combustion engines entirely by 2026.
The Biden Administration, for its part, is separately pushing for a sales share of 50% electric vehicles by 2030. President Joe Biden himself seeks to develop charging networks throughout the country in an effort to support the shift. The infrastructure bill sets aside nearly $7 billion for the project.
It seems premature to start funneling money into electric vehicles when the technology is far from perfect. Is this a partisan move by the Biden White House to cater to the loud environmental activists and lobbyists? Or, will electric vehicles really pave the way to a brighter auto industry future?
~Here's to Our Liberty!
Copyright 2022, LibertySons.org