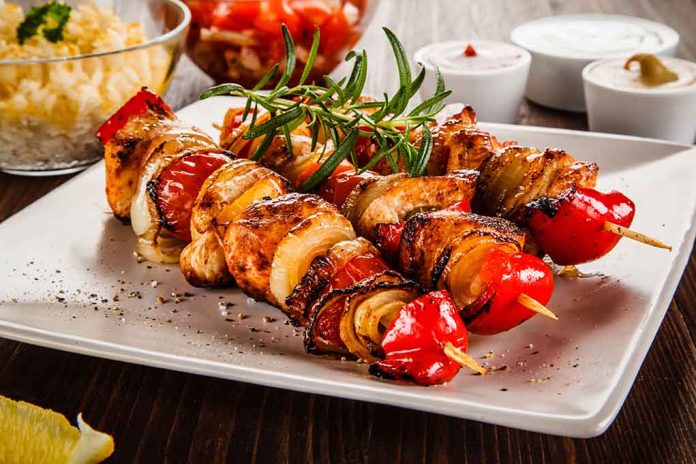 Man Horrifies Animal Rights Protestors – He Ate Something in Front of Them…
(LibertySons.org) – On August 27, animal rights activists protested outside some shops in Manhattan in an attempt to stop the companies from using real leather. They were getting a lot of attention after pouring artificial blood all over the sidewalks in front of the shops. What happened next made headlines. A man walked up to the crowd, stopping only to casually eat his shish kebab in front of the vegans and vegetarians, immediately sparking chaos.
WATCH: Man Freaks Out Animal Rights Protesters By Eating Shish Kebab | The Daily Wire https://t.co/rC2ldq5sHa

— DLW🍊 (@Dlw20161950) August 29, 2022
Several protestors got in the man's face and rebuked him, cursing and throwing insults his way. The hungry pedestrian, whose name remains unknown, stood his ground. He never reacted, but continued chomping away on his meat stick.
Viral News NY posted a video of the encounter on Twitter, where it racked up views. Responses came from those supporting both sides. One user backed the protestors, saying the fur industry is terrible and needs to shut down. Another said to let people demonstrate in peace. BFISH804 noted he wasn't a fan of either side.
Supporters of the unknown man cheered on his actions. One person commented that a diet containing no meat makes people unhappy — a nod to how the protestors were yelling, while the subject of their anger remained calm.
— The Right To Bear Memes (@grandoldmemes) August 28, 2022
Various people started posting pictures of meat, and one user complimented the snacking man's ability to remain aloof as he was verbally attacked by many.
~Here's to Our Liberty!
Copyright 2022, LibertySons.org