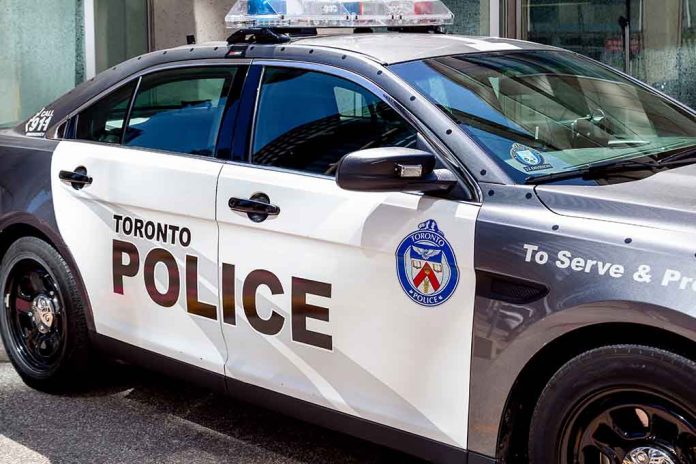 Another Gunman Outside School – Takedown Reported
(LibertySons.org) – After the recent Texas elementary school shooting, law enforcement agencies were on high alert, even those outside the United States. On May 26, Toronto officers received reports of a man with a gun near a local school. They acted quickly to take down the suspect and prevented a potential tragedy.
Gunman carrying a gun in Toronto killed by police. https://t.co/xJJ9tffMAB

— WF Burnett 🇺🇦🌻 (@GOPCrimeOrg) May 26, 2022
According to the Special Investigations Unit, police arrived on the scene around 1:35 p.m. to find a man with a firearm near East Avenue and Maberley Crescent, which is close to the William G. David Junior Public School. Officers approached the subject, and there was a confrontation that ended with officers fatally shooting the gunman.
Toronto Police Chief James Ramer held a media briefing, according to NBC News, where he declined to provide additional details because the incident remains under active investigation. The Special Investigations Unit assigned three forensic investigators and four others to work the case.
Due to the situation, schools in the area went into lockdown. The Toronto District School Board kept the public updated via Twitter. William G. David Junior Public School was the last to lift the lockdown order.
UPDATE: ALL Lockdowns and Hold & Secures have now been lifted with with the exception of William G Davis JPS, which remains in Hold & Secure to ensure an orderly dismissal at the end of the day. https://t.co/mj1vU5pCCN

— Toronto District School Board (@tdsb) May 26, 2022
According to records kept by the University of Washington's Institute for Health Metrics and Evaluation, the rate of gun fatalities in Canada is a low 0.5 out of every 100,000 people. In contrast, the United States has 4.12 deaths due to firearm violence for every 100,000 people.
~Here's to Our Liberty!
Copyright 2022, LibertySons.org