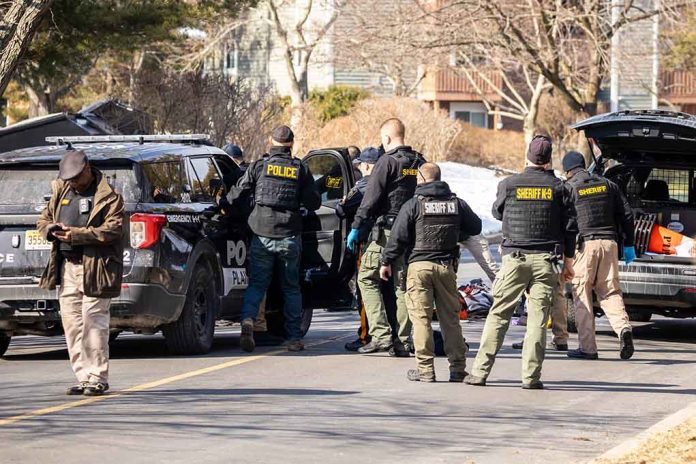 Crime Rates Suddenly CHANGE In These Major Cities…
(LibertySons.org) – Recently released crime data for 2022 shows six major American cities are far ahead of the previous year when it comes to violent criminal activity. Atlanta, Baltimore, Los Angeles, New York City, Philadelphia, and Washington, DC will exceed crime level records set in 2021 if they stay on their current trajectory. As of June 2022, violent offenses in the United States are up by 35% from 2019.
Six major democratic cities on pace to pass historic 2021 violent crime totals halfway through 2022. New York City and Washington DC have led the violent crime surge in 2022 https://t.co/qq6STAnWNK

— Blue Lives Matter 💎 (@RetiredNYCPD) June 22, 2022
Washington, DC, had an increase of 12% in violence since last year, but New York City is doing the worst, with a 25.8% rise in incidents. Atlanta saw the smallest jump at 5.5%.
Experts cannot pinpoint an exact cause for increasing violent criminal activity. Some blamed the pandemic and related restrictions for leading to an atmosphere ripe for hostility. Others pointed at the proposed reduction in police forces and protests from extremist groups, such as Black Lives Matter.
The New York Police Department vowed to continue its efforts to reduce gun violence on the streets. A leaked draft from DC Mayor Muriel E. Bowser shows his plans to fight crime by increasing the local police presence and putting ex-cons to work. In Philadelphia, the police department encouraged citizens to register their security cameras to help combat criminal activity.
The White House's solution is to push state and local law enforcement to use American Rescue Plan funds to invest in the police force and emergency response plans before the typical summer crime spike.
~Here's to Our Liberty!
Copyright 2022, LibertySons.org