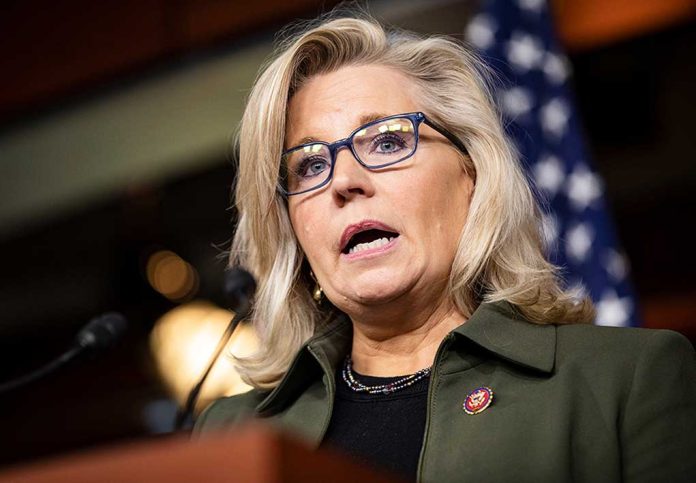 Liz Cheney Threatens Clarence Thomas – Reveals Her Hand!
(LibertySons.org) – January 6 House Select Committee member Representative Liz Cheney (R-WY) appeared on CNN's State of the Union on July 24 to discuss the status of the inquiry. The host asked if the panel wanted to speak with Virginia Thomas about her actions surrounding January 6, and Cheney confirmed, saying members would issue a subpoena if Supreme Court Justice Clarence Thomas' wife refused to testify voluntarily.
Liz Cheney Hints at Ginni Thomas Subpoena Following Bannon Indictment https://t.co/hlwP6e1MBW

— Kym Clark (@Kymon5) July 24, 2022
Mrs. Thomas faces allegations that she was involved in discussions about overturning the outcome of the general election in 2020, pushing the narrative of voter fraud. The panel has text messages between the justice's spouse and former White House Chief of Staff Mark Meadows pressuring him to stop Biden from becoming president. The committee also has emails from Thomas to Trump's campaign Attorney John Eastman. They allegedly spoke about keeping the former president in the Oval Office.
In June, Thomas' lawyer Mark Paoletta told the panel that they have no basis upon which to call the non-official to testify. He explained the communications in evidence offer no proof of a coordinated effort to defy the law. Unless the committee can provide something solid to show the justice's other half was in the wrong, the lawyer sees no reason she should appear in front of the panel.
According to Cheney, Ginny Thomas may not have any other choice.
~Here's to Our Liberty!
Copyright 2022, LibertySons.org