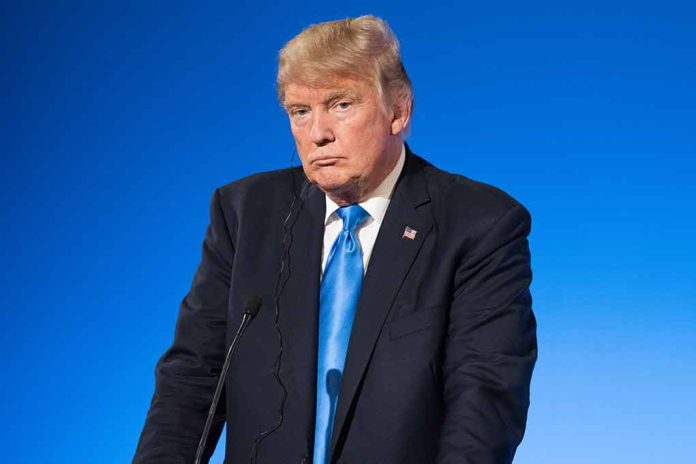 (LibertySons.org) – A grand jury handed down an indictment against former President Donald Trump on August 1 in the US District Court for the District of Columbia, charging him with four criminal counts surrounding his alleged unlawful efforts to overturn the results of the 2020 election. Based on recent legal scholars' discussions, two liberal groups may use the insurrection clause of the 14th Amendment to bar Trump from 2024 ballots.
William Baude and Michael Paulsen, two respected conservative law professors and members of the esteemed Federalists Society, submitted an article to the University of Pennsylvania Law Review on August 14. The piece concluded that Section Three, the insurrection clause of the 14th Amendment, would ban Trump from holding office because of his participation in the attempted overthrow of the 2020 presidential election.
Section Three states that nobody who has participated in an insurrection or rebellion against the US or helped someone to commit those acts after taking an oath to uphold the Constitution can hold a state or federal office or a civil or military commission or appointment going forward unless a two-thirds vote of each House of Congress removes that disability.
On August 30, John Anthony Castro, an unknown Republican presidential candidate from Texas, filed suit in New Hampshire, arguing the 14th Amendment prohibits Trump from appearing on the ballot. In the August 20 Republican debate, former Arkansas Governor Asa Hutchinson also questioned Trump's ability to qualify as president because of his actions.
Trump's legal team would meet any state attempt to remove him with a possible appeal directly to the Supreme Court. Yet, even if no state removes him, Citizens for Responsibility and Ethics in Washington and Free Speech For People, two liberal non-profit organizations, will likely sue to remove Trump from ballots if he becomes the Republican nominee.
Yet, a Fourth Circuit Court of Appeals ruling could serve as a bellwether. Former Rep. Madison Cawthorn (R-NC) sued for an injunction against a group of constituents who sought to prevent him from running for office based on Section Three because of his involvement in the January 6, 2021, events. Cawthorn argued, among other things, that the 1872 Amnesty Act protected him from their claim.
The Appeals Court ruled the provision only applied to events before the measure's enactment. However, the three-judge panel's opinion also noted that any ruling on Section Three of the 14th Amendment must come from a two-thirds vote of Congress based on the Amendment and the Constitution.
Moreover, critics point out that removing Trump's name from state ballots and the resulting election controversy that might result could provoke a Constitutional crisis.
~Here's to Our Liberty!
Copyright 2023, LibertySons.org