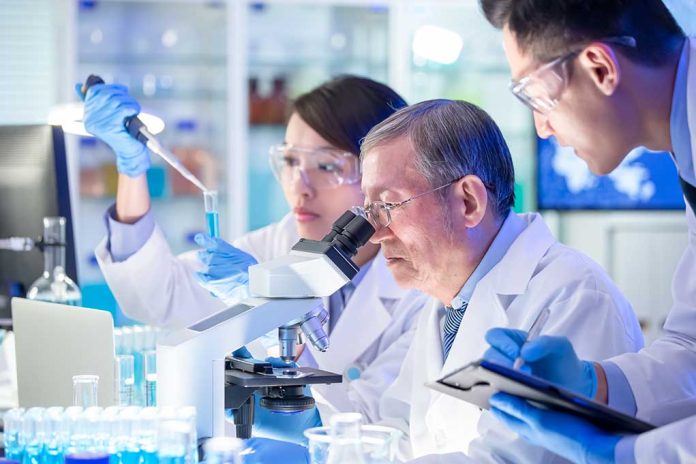 Scientists Discover New Cancer Treatment Drug
(LibertySons.org) – Cancer has touched almost everyone in some way. It can be a devastating disease that completely upends lives. Finding a cure is a complex and challenging process, given there are many variations that require specific and unique treatment approaches. Still, researchers continue to work toward the ultimate goal, and a group from Vall d'Hebron Institute of Oncology (VHIO) at the 34th EORTC-NCI-AACR Symposium in Spain presented findings of a phase I clinical trial showing science might be on the right path.
Unbelievable Results
The VHIO researchers presented a mini-protein they developed called Omomyc (OMO-103). It has the ability to stop MYC, which is a protein-coding gene involved in cancer cell growth that tells cells to divide. The gene goes into overdrive in cancer patients, allowing the diseased cells to grow out of control, and it's a significant player in many aggressive forms of the disease. For this reason, it has been a primary target for scientists looking for a cure.
OMO-103 gets into cells and stops MYC from encouraging tumor growth. This study marked the first time anyone has successfully been able to block the gene.
The VHIO Study
Prior to beginning the human study, the researchers tested OMO-103 on mice. The experiments showed significant results. The protein focused heavily on tumors, and the animals' immune systems didn't produce antibodies against it.
For the human study, the team chose 22 patients with tumors and extensive treatment histories. Before the scientists administered the experimental treatment, they took biopsies of the tumors for later comparison.
Each patient received varying doses of OMO-103 starting in April 2021. In October 2022, 12 of the participants underwent CT scans. Eight of those people showed the protein halted cancer growth. At least one participant had their tumor shrink by 80% as a result of the treatment.
The lead on the project, Dr. Elena Garralda, explained that while the findings were encouraging, there is more research that must happen. Side effects were minimal and included irritation at the IV site, nausea, chills, rash, low blood pressure, and fever. These issues occurred most often in participants who had higher doses.
Garralda advised the project is moving into phase II trials — another milestone. She explained researchers are working toward the goal of using OMO-103 in combination with other cancer treatments.
With the recent news about the possibility of a cancer vaccine on the horizon, scientists may be well on their way to battling this disease on multiple fronts.
~Here's to Our Liberty!
Copyright 2022, LibertySons.org