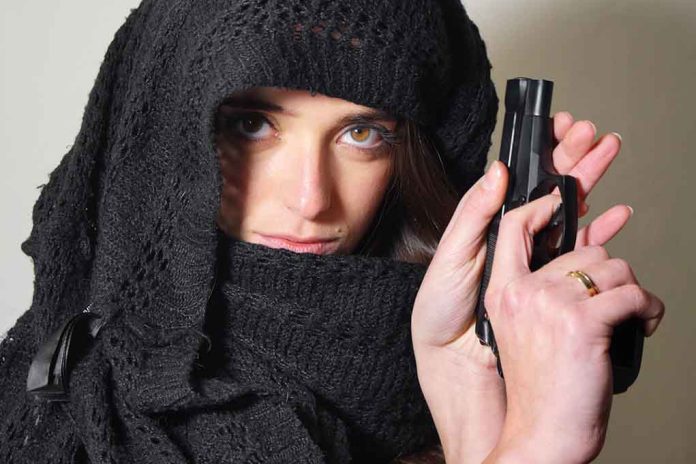 ISIS Leader Learns Her Fate
(LibertySons.org) –  The Department of Justice announced on June 7 that Allison Fluke-Ekren pleaded guilty to leading an ISIS female military group in Syria and other terrorist acts. She admitted to recruiting and training the all-woman squad, Khatiba Nusaybah. The number of women and girls she managed to involve in the group was over 100.
Andy Vermaut shares:US woman pleads guilty to leading ISIS battalion: Allison Fluke-Ekren faces a maximum 20-year prison sentence after she admitted in federal court to… https://t.co/pkgzBcJ0ES Thank you. #ThankYouJournalistsForTheNewsWeGetFromYou #AndyVermautThanksYou pic.twitter.com/s4UzLkdipe

— Andy Vermaut (@AndyVermaut) June 7, 2022
Authorities said Fluke-Ekren, an American citizen, left Kansas in September 2011 and worked with terrorist organizations in Iraq, Syria, Libya, and other countries until May 2019. She recruited girls as young as 10 years old and taught her military group how to use assault rifles and make bombs.
She also assisted her husband by reviewing stolen US government documents and providing information to terrorist leaders. He was an ISIS sniper who quickly moved up the ranks. Meanwhile, she became obsessed with committing an attack on the US. According to a witness, she talked about and planned terrorist attacks with the hopes of killing disbelievers within the United States and expanding ISIS. Khatiba Nusaybah officially began its training in February 2017.
US officials transferred the captured individual to Virginia on January 28 to stand trial, where she remains until her next court date. Her sentencing will occur on October 25, at which time she could receive up to 20 years in prison.
~Here's to Our Liberty!
Copyright 2022, LibertySons.org