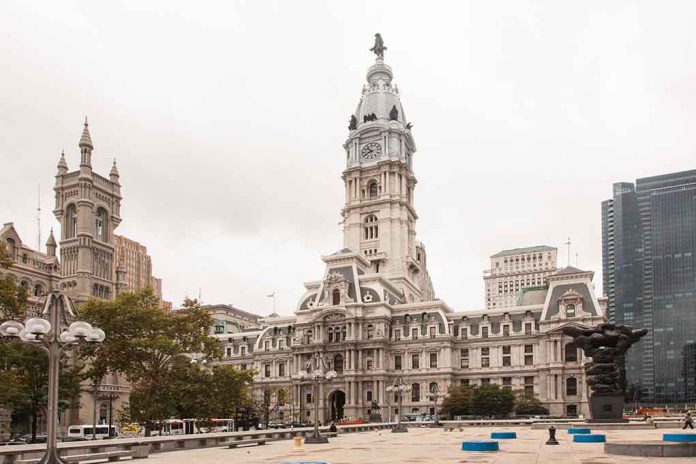 Radical DA Becomes Target of Impeachment Push
(LibertySons.org) – On June 13, Pennsylvania State Republican Representatives Josh Kail, Torren Ecker, and Tim O'Neal announced they are beginning the move to impeach Philadelphia District Attorney Larry Krasner. The representatives maintain the DA has failed to carry out the duties of his office, creating a crime-ridden environment in the city. They claim Krasner forced their hand on the issue by not enforcing laws.
Republicans move to impeach leftist Philly DA Larry Krasner for being soft on crime, allowing 'chaos' in streets: 'He's completely lost his mind' https://t.co/WSlykkxClz

— TheBlaze (@theblaze) June 14, 2022
The representatives say the elected official's inaction has led to a city that has dissolved into chaos. Krasner has faced criticism from all sides for his handling of the violence. But the DA has maintained there is no crime crisis.
In 2021, the city saw a record-breaking increase in Philly's number of homicides. Yet, Krasner continues his liberal policies, including allowing no-cash bail for some offenses and reducing the number of people on probation and parole. Ecker said in a recent press conference that the DA's policies have led to a 22% increase in overall crime in the city.
.@EckerRep and other lawmakers announce the start of the impeachment process of Phila. District Attorney Larry Krasner @CBSPhilly pic.twitter.com/G3O78gLeZJ

— Matt Petrillo (@MattPetrillo) June 13, 2022
Krasner responded to the impeachment, saying there are no legal grounds and the move is unconstitutional. The district attorney also expressed doubts the action will move forward and stated it goes against what the voters decided. In fact, his argument might have legal grounds — for now.
The Pennsylvania Constitution allows the state House of Representatives to impeach all civil officers in the state, elected or appointed. However, this contradicts the Philadelphia Home Charter Rule, which says the only way to unseat an elected official is through a recall vote for cause. To combat this obstacle, the representatives introduced HB 822, which already passed the House and would allow for a Philadelphia recall election of Krasner without cause, if it passes the state Senate.
As to the Articles of Impeachment, Kail said he expects a bipartisan vote because the DA's failures are "well known" throughout the state.
~Here's to Our Liberty!
Copyright 2022, LibertySons.org