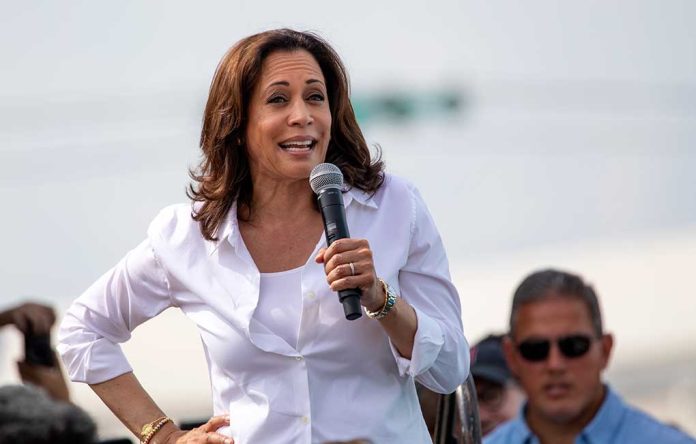 Kamala Harris' Latest Stunt Backfired
(LibertySons.org) – Vice President Kamala Harris spoke at a meeting with disability advocates on July 26 about the state of abortion rights. To start the discussion, she described herself as a woman, adding that she was wearing a blue dress and that she preferred she/her pronouns. Representative Lauren Boebert (R-CO) found the display irritating, remarking that the inclusion of the distinction, along with the VP's gender, was "idiotic."
Kamala Harris just introduced herself with she/her pronouns at an official event.

She then clarified that she was a "woman" sitting at the table wearing a blue suit.

This is what happens when your speechwriter quits and you hang around with Geriatric Joe too long.

— Lauren Boebert (@laurenboebert) July 26, 2022
The legislator also said when someone introduces themselves like the vice president did, she expects every word after that do be equally as stupid.
When you use pronouns to introduce yourself, I'm assuming everything you have to say after is as idiotic as your introduction.

— Lauren Boebert (@laurenboebert) July 26, 2022
Christina Sommers from the American Enterprise Institute noted that Harris was only hurting her appeal to many Americans by spewing "woke inanities."
If she would repudiate woke inanities and move towards a
commonsensical centrism, she would be embraced by a majority of Americans. Instead, she just digs in. https://t.co/jEXwzOkBC6

— Christina Sommers (@CHSommers) July 26, 2022
Dan McLaughlin, a writer for the National Review, agreed with Sommers, stating the administration is clearly out of touch with everyday citizens.
The concept of describing oneself at virtual meetings is commonplace. The goal is to help vision-impaired attendees. The introduction of pronouns is also becoming more popular for some as the gender movement grows. The American Association for People with Disabilities (AAPD) stated that including such information at the start of meetings helps the proceedings to be more inclusive. Some critics say the "political correctness" was over the top, as there are more pressing matters at hand.
Do you find such introductions necessary in important public meetings?
~Here's to Our Liberty!
Copyright 2022, LibertySons.org